The origins of Beer Guy LA
Beer Guy LA began in 2012 when creator, editor-in-chief, and Cicerone Certified Beer Server Jeff Prosser finally caved in to pressure from his beer-loving compatriots. An avid craft beer fan, Jeff had already been cataloging notes and photos of his favorite beers for years in an attempt to further grasp his tastes and a deeper understanding of beer styles and variations. Those who knew him best, taking note of the depth and breadth of his observations, soon insisted that someone this passionate about beer needed a professional outlet to share his findings with the world. After many beer-fueled debates it was decided that blogging held more appeal than a book. A blog could become a record of great beers and events that could serve as a resource for the craft beer community Jeff holds so dear. After some research, it became clear that the best use for Jeff's obsession would be to create a blog focused mainly on craft beer available to the drinking public of Southern California. After all, what good is reading about a beer you cannot obtain for yourself? Of course some of these beers would be hard to find, sometimes for mere hours on a special release, but the majority of beers reviewed on the blog would intentionally be selected from local bottle shops and craft beer establishments. So with reckless abandon Jeff took his love affair with craft beer, that began with his first pint of Arrogant Bastard, and endeavored to create a first class beer blog for those who want to explore all that the LA craft beer scene has to offer. After a year of successful growth, Jeff brought on both Dave Willis and Dane Elcar as co-editors and contributors and has continued to push the blog into new territory in order to better serve its growing fanbase.
The Beer Guy LA Team
Jeff Prosser
Raised in Ventura, California, Jeff Prosser lives and works in Los Angeles as a professional freelance audio engineer. When he is not seeking out the best rare beer he can find, or frequenting the many craft beer events happening all over Southern California, he can be found scaling the face of Runyan Canyon with Brewsky, the official dog of Beer Guy LA.
Dave Willis

A transplant from New England, Dave Willis is a freelance screenwriter, blogger, and copy editor living in Burbank, CA. In addition to various beer reviews and photographs for Beer Guy LA, he pens our buyer beware column Dave Hates Your Beer and occasionally dabbles in homebrewing. A sucker for quality Belgians, Dave appreciates malty offerings on the higher end of the ABV spectrum. You can follow Dave on Twitter at @WillisWrites.
Dane Elcar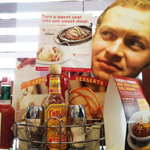 Dane Elcar was raised in Santa Paula, California. An avid writer, his fiction has appeared in Fiddleblack and is forthcoming in Puerto del Sol. When he's not contributing to Beer Guy LA via his column Dane On the Spot, he is polishing the manuscript of his first novel. He currently lives and writes in Los Angeles. For more info you can follow him on Twitter at @DaneElcar or visit www.DaneElcar.com.
I want to get in touch with Beer Guy LA about ______!
If you want to get in touch with any of us feel free to send us an email, drop us a message on Facebook, or you can find us on Twitter @BeerGuyLA.
We hope you enjoy the blog.
Cheers
The Beer Guy LA Team