If you live in Los Angeles and you love craft beer, you surely know that Tony's Darts Away is among the better beer bars in LA, with enough selection and atmosphere to draw even the most anti-valley Angelinos over the hill. Frequented by beer aficionados, average pub-goers, and avid hop-fueled cyclists. Tony's Darts Away has something for everyone, including a growing list of vegan and omnivore food offerings to pair with an impressive taplist.
Enter Darts Away IPA, the first beer named after this uniquely crafted bar. For the past three years Tony's has been bringing Burbank a steady stream of top notch offerings constantly on rotation. So this weekend during their 2-day third anniversary party, I was happy to stop by to experience their first TDA offering.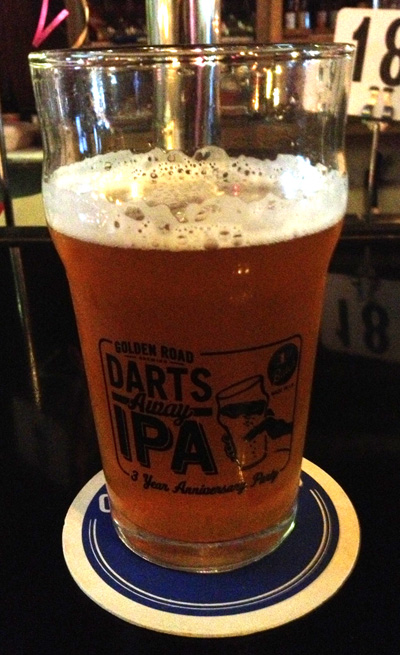 Legend has it that owner Tony Yanow always wanted to have his own IPA. Though he is also the proprietor of Golden Road Brewing and Mohawk Bend, it seems fair to say that perhaps his heart lies with the bar that also shares his name; Tony's Darts Away. He is a man not shy about his love of IPA's. After all, his TDA menu is clearly divided between IPA's and everything else. That is why when it came time to create a brew worthy of the TDA 3rd Anniversary, Tony wanted to create a beer that portrayed his love of IPA's and Tony's Darts Away, while honoring those who work so hard to make this one of the most beloved craft beer bars in all of LA. It was clear he had met his goal when those around him began tweeting how overcome with emotion he was at the midnight tapping of the brew Friday night. Maybe he cried, maybe he didn't, but he was surely pleased with the results.
Dart's Away IPA is not only exceptional based on flavor, but is made special by the fact that every one who works at TDA had a hand in its creation. Whether lugging grain bags or adding ingredients to the mash, the faces you have grown to love behind the bar were all front and center in the creation of an anniversary offering that underlines what is special about TDA.
Cole Hackbarth, head brewer for Golden Road, picked flavors along with Tony and TDA staff, that would best represent the bar and its unique personality and all of the members of the TDA team actually helped brew it on the day, which was important to Tony. Aiming for an IPA around 7% ABV, they landed at a powerful 9.65.% worth reviewing.
The pour is an amber gold that at once seems inviting. Thin, rocky off-white head dissipates quickly leaving a fine ring around the surface that produces a fair amount of lace on its way down the glass. The nose is fantastic, with a potent bouquet of fresh hops and citrus. Slightly floral, the beer promises freshness and delivers. The taste has a robust mix of hop throughout with a slightly bitter back end that doesn't offend. Carbonation is medium, as is the body, all amounting to a hop-forward brew with great drinkability. Truckloads of citrus rind round out a boozier than usual IPA that should be experienced if you can make it to TDA this weekend. I was lucky enough to have one poured in a Darts Away IPA commemorative glass, available for an extra $15. Response to the brew has been so positive, that what was conceived as a limited edition may make its way back to taps on a more permanent basis.
"It was meant to be an anniversary beer only, but the response has been so overwhelming that we may need to brew it again soon." – Tony Yanow
Other highlights from Saturday's event include Ballast Point's Habenero Sculpin, three vintages of Lost Abbey Angel's Share, and many more. Today the party continues with "Sour Beer Sunday". If it's anything like yesterday, there promises to be some great beers tapping every hour on the hour.
Happy Anniversary Tony's Darts Away!
Name
Darts Away IPA
Brewery
Golden Road Brewing
Style
Imperial IPA
ABV
9.65%
Availability
Only Available at
Tony's Darts Away
Rating
4 out of 5
Cheers
Dave