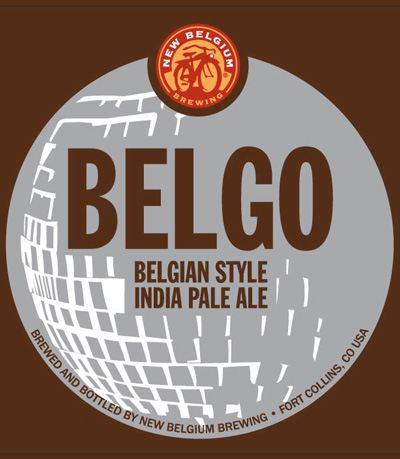 In a market desperately trying to distinguish itself through rapid-fire releases of collaboration brews and high ABV limited edition offerings, it is often easy to overlook the off-the-shelf brews trotted out by such reliable sources as New Belgium Brewing. There's no question that Fat Tire has been the saving grace of many otherwise unacceptable draught line-ups, so it is fair to say that you can purchase their new editions with confidence. Like other beers in their arsenal, Belgo began its life as a member of one of New Belgium's Lips of Faith series and was later released as a six-pack.
Belgo was born of New Belgium's desire to put a modern spin on classic Belgian taste. While many companies try to fail to create new flavors by cross breeding markedly different brews, New Belgium has hit a home run by brewing an Ameri-Belgo slightly hopped as an IPA. Imaginative yet simple, it is a welcome edition.
As noted on New Belgium's website, "Belgo sounds like a Belgian disco. Hops like to party." Keen observations that reflect a champagne-like golden pour creating a thin bright white head composed of tiny bubbles that leave subtle lace to the bottom of the glass. Despite the presence of four hops (Simcoe, Cascade, Centennial, and Amarillo), the aroma is mainly of fresh fruit and spice. A strong presence of citrus peel enhanced by the Trappist yeast balances out the hops. Coming in at 7% ABV, Belgo packs a punch without overdoing it. Simple, affordable, and tasty. Carbonated and refreshing, this unique brew starts off bold like an IPA and coasts to the smooth finish of a Belgian, giving the beer a drinkability that should be coveted by breweries out to create similar mash-ups.
You can find Belgo as a six-pack at most major beer stores and even some supermarkets, but for a limited time. New Belgium will cease production of this tasty offering in March, making room for Rampant Imperial IPA.
Name
Belgo
Belgian India Pale Ale
Brewery
New Belgium Brewing
Style
Belgian IPA
ABV
7.0%
Availability
Draft and Bottle


Through March '13

Rating
4 out of 5
Cheers
Dave