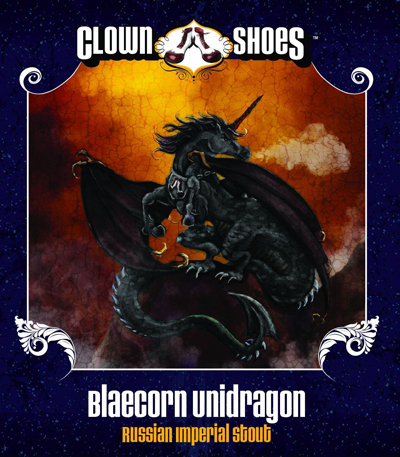 Pursuing their goal to "produce beer without pretension", Clown Shoes (contract brewed through Mercury Brewing Company – Ipswich, MA) has been releasing comically branded brews for almost four years. According to DrinkCraftbeer.com, the company began when liquor store owner Greg Berman of Lexington, MA realized his distribution license could play a key role in getting their beer off the ground. It would appear his assumption was correct. In a few short years Clown Shoes has churned out an impressive number of beers, all with high ratings on Beer Advocate. They've also widened their distribution network, bringing their brews to a growing number of states across the country, including California.
My first sampling of their lineup is Blaecorn Unidragon, a russian imperial stout coming in at 12.5% ABV. The pour is pitch black with a thick mocha colored head that dissipates quickly. Light lacing is present initially, but is short lived. The nose is lighter than would be expected for a brew over 10%, composed mainly of malt and coffee notes. There is a slight grassiness, only the faintest sign of the aggressive hops indicated in the company description.
"Brewed with a monstrous amount of malt and combined with aggressive American hops, this beer is powerful and complex and designed to age. Smokiness is subtle but present and blends nicely with the rich, dark flavors." – Clownshoesbeer.com
The taste opens with a powerful dose of heavy roasted malts leading to a short bitter finish with no real lingering aftertaste, save for a mild warm burn on the back of the throat. At first the beer seems a bit crisp for a stout, having a thinner body than one would expect. The alcohol takes a surprising back seat directly after the pour, but as the glass warms a slight boozey quality becomes fairly pronounced and the flavor profile melds into a consistent coffee malt with a clean finish.
I must say it is refreshing to see a brewery that thrives while not taking themselves too seriously. The names and artwork of the Clown Shoes line up could come across as pure gimmick, if not for the fact that they are also of a high quality. For my money this is a no nonsense malt-forward imperial stout that reveals itself as you make your way to the bottom of each glass. Though its body errs on the lighter side, I find this adds a level of drinkability that could make things interesting for those lacking an iron constitution.
As a Massachusetts native, I am no stranger to Ipswich Ale aka Mercury Brewing company. They contract brew on and off the radar for brewers like Clown Shoes, or bars and restaurants like The Eagle Brook Saloon in Norfolk, MA where I was a line-cook in college. The Eagle Brook is locally famous for the Blueberry Ale by the same name. This speaks to the depth of production taking place at Ipswich, that in turn clearly increases the quality and makes it awfully hard to knock contract brewing. In business since 1991 and cranking out many of New England's favorite brews, Clown Shoes has certainly put their beer in good hands.
This brew, as well as several others from Clown Shoes, hit LA's finer bottle shops (Vendome Beverly Hills, Sunset Beer Co, and Ramirez Liquor to name a few) last week and runs about $12. Expect to see more Clown Shoes popping up around town in the near future.
| | |
| --- | --- |
| Name | Blaecorn Unidragon |
| Brewery | Clown Shoes |
| Style | Russian Imperial Stout |
| ABV | 12.5% |
| Availability | Limited Bottle Availablity |
| Rating | 4 out of 5 |
Cheers,
Dave