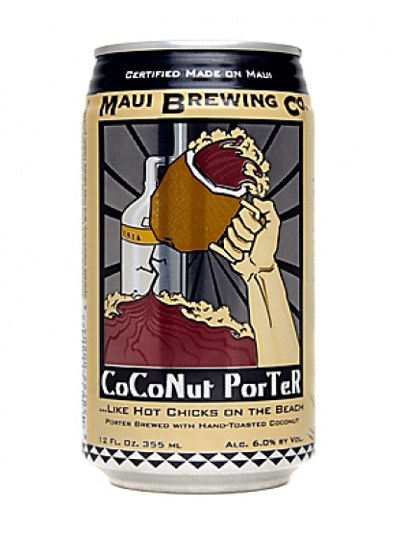 I have had Maui Brewing Company's CoConut Porter several times in the past, but it never really wowed me. But with my renewed interest in finding good porters, I figured it should get another chance. And come on, the label says it's "like hot chicks on the beach."
Much like the last porter I reviewed, there wasn't a whole lot of info on this one. The back of the can states that this porter is made with toasted coconut and 6 varieties of malted barley.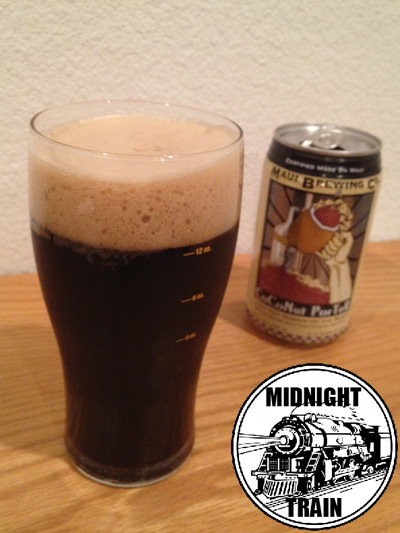 The pour is black with a good amount of creamy tan head and moderate lacing. Aroma is mostly roasted malt with just a hint of coconut, vanilla, and smoke. Medium bodied with a lively amount of carbonation. The flavor starts with roasted malt that moves to a bitter coffee that finishes on a sweet caramel malt with a bit of coconut. The aftertaste has a bittersweet chocolate malt with some very mild coconut and spice.
This is a pretty solid brew, with a great balance and some very enjoyable malt flavors. being a big fan of coconut and malty beers, I really want to like this beer. But the lack of a pronounced coconut flavor and the cost (almost $3 for a 12oz can) make me think twice before grabbing this one. Guess we'll have to keep riding the Midnight Train to see what the next stop is.
Name
CoCoNut Porter
Brewery
Maui Brewing Co.
Style
Porter
ABV
6.0%
Availability
Wide Can &
Limited Draft Release
Rating
3 out of 5
Cheers,
Beer Guy LA