The cake may be a lie, but when you've got some of Eagle Rock Brewery's Red Velvet you probably won't miss it much. This annually released imperial red ale is as big and delicious as its namesake, but more importantly, IT'S AVAILABLE RIGHT NOW.

This beer is a perfect example of what an imperial red should be. A traditional red ale is characterized by its color, malt profile, and a slight fruitiness. The imperial red ale is a bit of an odd duck, as it is not actually a fully recognized style by the various powers that be in the beer world. In most instances it has stronger malt and hop characteristics and a higher ABV. The addition of rye, which is a rather common addition to red ales, helps give this brew a little extra fullness on the body and added color.

This particular imperial red ale has a rather interesting origin story. Back in 2010 when Eagle Rock Brewery was in the thick of their first year of brewing, they hosted a homebrewing competition for The Maltose Falcons. The winner of the competition, Donny Hummel, got to have his homebrew recipe for Red Velvet brewed full scale at Eagle Rock Brewery and have it be the their official entry into the Great American Beer Festival(GABF) beer competition. The initial release of this brew was a big hit with all the Eagle Rock Brewery regulars and the lucky few places around town that got to serve it. It also went on to take a gold medal in the Pro-Am category at GABF. It has since become a bit of a celebrity brew, getting brought out for brewery celebrations and LA Beer Week.

This year a few changes had to be made to the recipe due to ingredient shortages, namely the Amarillo hops have been replaced with Galaxy hops. The 2012 batch also brings the ABV down to 10% from its slightly higher 11% in previous brewings.

This beer is one of my all time favorite beers. The pour is a somewhat cloudy dark ruby color with a fair head and good amount of lacing. The aroma is sweet and malty with a noticeable rye and citrus notes. It has a bit thicker than average body with just the right amount of carbonation. The flavor starts out a bit bready and moves to a more distinctive malt with a hint of toffee and ends with a bitter hop and a rye finish. There are notes of citrus and oranges as well as a bit of earthiness throughout. For being a strong beer, this brew is very drinkable and not to heavy.

If you're interested in trying out this deliciously big, award-winning red ale, head on down to the Eagle Rock Brewery taproom. They will be pouring up full pours for $6 and taster pours for $3. This brew will be available at the taproom until they run out (most likely towards the end of March). If you're interested in getting some to take home, be sure to stop by before 3/14/12, as they will only be doing growler fills for the first week of its release. And be sure to keep an eye out for more reviews from Eagle Rock Brewery in the near future.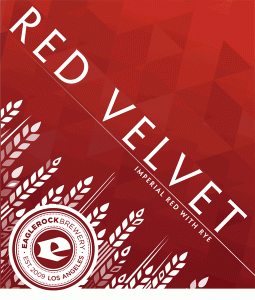 | | |
| --- | --- |
| Name | Red Velvet |
| Brewery | Eagle Rock Brewery |
| Style | Imperial red ale with rye |
| ABV | 10.0% |
| Availability | Annual draft release |
| Rating | 5 out of 5 |
Cheers
Beer Guy LA
***SIDENOTE: If you're interested, the original recipe can be found here if you want to try making it at home.