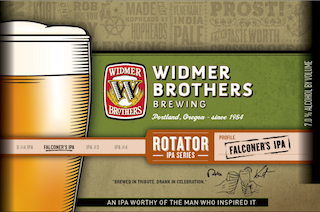 Falconer's IPA from Widmer Brothers is part of the Rotator IPA Series, which is Widmer Brothers lingo for seasonal IPA. This particular brew is dedicated to Glen Falconer, a brewing legend in the Oregen beer world who passed away in 2002. Widmer Brothers used Falconer's Flight hops, a special blend named for Glen created by Hopunion. A portion of the proceeds from the sales of Falconer's Flight hops goes to the Glen Hay Falconer Foundation, providing scholarships to professional and aspiring brewers. In addition, Widmer Brothers made an additional donation to grant two additional scholarships to the foundation.
The beer pours a dark golden color with a good amount of rocky head that lasts for a long time. Aroma has a nice citrus and pine hop with a solid caramel malt backing. Mouthful is medium bodied with a good amount of carbonation. The flavor follows the aroma pretty closely, with the caramel malt leading to a floral hop and finishing on a piney hop. The aftertaste has a bitter pine flavor with a bit of citrus peel and a lingering caramel malt.
Falconer's IPA is a smooth IPA that brings a set of flavors that make this beer very enjoyable to drink. The added karma that some of the profits are going to help the next generation of brewers doesn't hurt either. This beer can be purchased as a six-pack or as part of Widmer Brothers Best Variety Pack. If you happen to be looking for a good IPA on a budget, this would definitely be a top contender.
Name
Falconer's IPA
Brewery
Widmer Brothers Brewing Company
Style
IPA
ABV
7.0%
Availability
Seasonal Release
Widely Available
Rating
4 out of 5
Cheers
Beer Guy LA