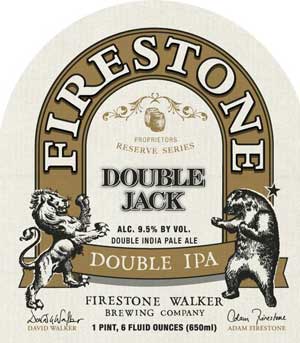 I've written about quite a few of Firestone Walker's darker beers (like Parabola, Sucaba, and Wookey Jack) but have very much been looking forward to writing about their IPAs, Double Jack and Union Jack. First up is Double Jack, Firestone Walker's year round double IPA.

Double Jack started out as a special release in 2011 that has been pretty reliably available since its initial release. Taking inspiration from Union Jack, Double Jack amps up the malt flavor, hop impact and has a higher alcohol percentage. The brewers tried to create a beer that showcases the extreme side of American hops but with their own twist, making a beer that is explosively flavorful and yet integrated and immensely drinkable.


The pour is a clear golden color with a nice amount of bubbly head that dissipates pretty quickly. There is a strong hop aroma, with notes of tropical fruit and a bit of pine, with just a of malt in the background. Medium bodied with a good amount of carbonation giving it effervescent mouthful. The flavor starts with a bit of sweet maltiness that jumps right into a strong piney hop the mellows to a tropical fruitiness and finishes with a bit of citrus. The aftertaste is a dry bitter hoppiness with a slight burn.
I really like this IPA. Its got a great hop character and just the right amount of malt. Some even say that this beer is the next best thing to Pliny The Younger. I'm not sure I'd go that far, but it definitely is an amazing IPA that you can find in a number of different places. Firestone also just recently announced that they will be offering Double Jack in 12oz 4 packs in the near future, so keep an eye out for those at your favorite beer retailer.
Name
Double Jack
Brewery
Firestone Walker
Style
Double IPA
ABV
9.5%
Availability
Year Round Bottles
Limited Draft
Rating
5 out of 5
Cheers!
Beer Guy LA