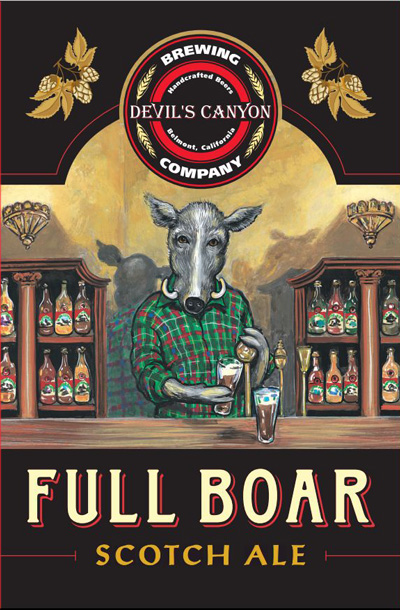 Jeff: Sometimes mistakes are made. We have a very loose organization here at Beer Guy LA, but for the most part we try to not review the same thing. This is the first occasion where Dave and I cracked open the exact same beer, on the exact same night. So you will be getting both of our opinions on this one.
Dave: I must have taken a subconscious inventory of the Beer Guy LA cellar last time I was there, because as I was about to pour a tall glass of Full Boar Scotch Ale by Devil's Canyon for review I discovered that our Editor in Chief Jeff was at that very moment enjoying the same brew. For that reason we will for the first time review both bottle and can simultaneously.
Jeff: Devil's Canyon, based in San Francisco, has been brewing since 2001 and taken home a number of awards for their various brews. They don't see a whole lot of distribution here in LA, but I have started to see their cans an bottles in a few of the bottle shops around town. Full Boar, which is available in both 16oz cans and 22oz bottles, is probably the most widely seen around town.
Dave: As I open my 22oz bottle there is an immediate aroma of subtle sweet scotch in the air. The pour is almost black, revealed as deep brown when held to the light. The head is two fingers of thick billowy light tan head that reduces to a solid ring that survives to the bottom of the glass with light lace.
The nose, while initially dominated by scotch, is composed of a great damp earthiness derived from the peat roasted malt. There are also notes of dried fruit akin to raisins and the combination of it all hints at cinnamon.
The opening is primarily of light, smooth scotch, followed by creamy earthy malt with a caramel sweetness leading to a clean, almost coffee-accented finish. A light body adds greatly to drinkability. Here we still get that earthy roasted malt and raisin like fruitiness that becomes more detectable as the scotch subsides in a warming glass. Moderate carbonation suits the body well. Mouthfeel is at first creamy but finishes on a dry roasted chocolate malt.
The booze is balanced and doesn't overdo it, while still delivering the scotch flavor you desire. I find that to be the most important measurement of any scotch ale. This beer is balanced. It's a plain and simple scotch ale and despite its ABV of only 7.4%, the brew does its best impression on a 9%. For a shockingly low $5 this is a bargain and is worth a try.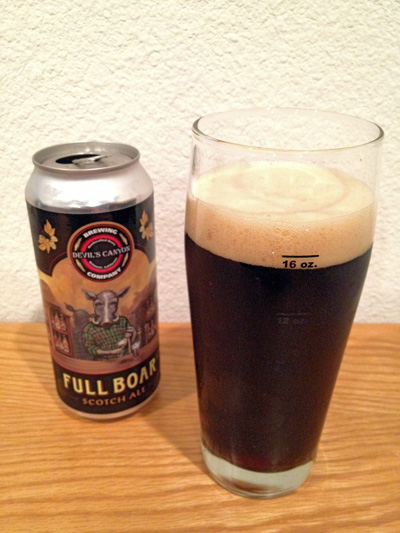 Jeff: I opted for the 16oz can because I have to justify the existence of my over-sized glass with at least one 16oz beer a month. The pour is a very dark ruby brown with a good amount of bubbly tan head. This beer magically keeps a constant ring and surface covering of head that I can't say I've seen very often. The aroma has an interesting mildly smoked malt, hinting at chocolate and with just a hint of peat. As it warms you start to get a bit of plum or raisin.
Pretty big bodied with a very creamy mouthfeel. The flavor starts with a bitter cocoa nib that moves to a rich and somewhat sweet dark fruit and finishes on a peaty smoked malt that brings notes of toffee and biscuit. The aftertaste has a pretty dry mix of that peaty malt with a bit of lingering dark fruit and a pronounced warming of the back of the throat. There is a minimal copper tang that creeps up on the aftertaste as you drink.
Overall it's a solid scotch ale. It leans a bit on the boozy side of the style and after a 16oz pour you definitely start to feel all 7.4% of its ABV. For the price, about $2.25 a can which is right about in line with Oskar Blues Old Chub, it will definitely give you some bang for your buck. But what really sets this one apart for me is the great use of the peat. If you're a fan of scotch ales or wee heavies, I'd definitely recommend giving this one a shot.
| | |
| --- | --- |
| Name | Full Boar Scotch Ale |
| Brewery | Devil's Canyon Brewing |
| Style | Scotch Ale (Wee Heavy) |
| ABV | 7.4% |
| Availability | 22oz. Bottles/16oz.Cans |
| Rating | 4 out of 5 |
Cheers
Jeff & Dave