On a recent trip to the Beer Guy LA beer cellar, I was immediately taken with a yellow-labelled bottle donning a Vietnam era helmet ala Stanley Kubrick's Full Metal Jacket. Closer inspection revealed a clever riff on the movie's poster. Bullets were replaced with wheat stalks and the famous "Born to Kill" scrawled on the side now read "Born to Brew." The entire label makes a bold statement. Full Metal Jacket is held in high esteem by many and to associate this image with your beer is to make a statement about quality. This combined with the fact that it was a scottish-style "wee heavy" ale gave me high hopes that Full Malted Jacket by Beachwood Brewing, would be a tasty, aggressive offering.
When I get to the pour I find an attractive brew of dark mahogany. The head is a finger's worth of light foam that reduces to a solid ring leaving lace most of the way down the glass. The nose is mainly comprised of a light earthy aroma, like rolling over a log after a long period of rain. Wet leaves accented with a heavy dose of toffee. The alcohol is hardly present in the aroma.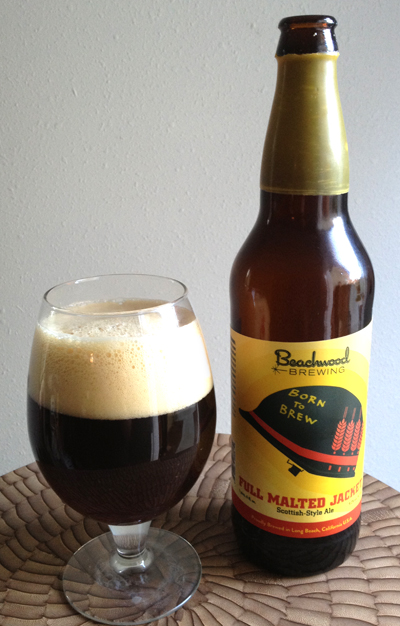 "Full Malted Jacket is our take on a classic 'wee heavy' Scotch Ale. It's brewed with a base of Golden Promise malt, an heirloom variety from Scotland. Notable additions of light and dark British caramel malts with a smidgen of chocolate malt help add flavors of rich toffee. It's hopped just enough with British Goldings hops from East Kent to balance things out." – Beachwood
The initial sip opens with a smooth robust malt that quickly jumps to a scotch that has a pleasant aftertaste. There is a slight bitter note in the transition. Here we experience more of the earthiness, toffee, and bread, but only a nominal scotch profile. The finish is dry. I don't sense any of the hops noted in the description. There is a saltiness to it, not in flavor, but in the way it effects the lips and gums. A strange transition that takes place halfway down the glass. The marriage of the malts, scotch, and toffee/caramel flavor eludes to flat Dr. Pepper in a strange way that is more puzzling than unpleasant.
This is a good scottish-style ale, but for $12 per 22oz, it is a bit pricey. At 9.2% the brew lacks the extra kick one would expect when trotting out with imagery from Full Metal Jacket. It hits all the notes you want from a good scotch ale, but stops short of stepping out ahead of the pack. For my money, Alesmith's Wee Heavy is among the top five Scotch Ale's rated on Beer Advocate, is rated 100 on Rate Beer and is comparably priced.
Name
Full Malted Jacket
Brewery
Beachwood Brewing
Style
Scottish-Style Ale/
Wee Heavy
ABV
9.2%
Availability
Limited Draft and
Bottle Release
Rating
3.5 out of 5
Cheers,
Dave