An edition to New Belgium Brewing's Lips of Faith Series, a recent collaboration with Brasserie Dieu du Ciel of Montreal, Quebec brings us Heavenly Feijoa Tripel, a tart, adventurous take on a Belgian Tripel that doesn't disappoint.
The pour has an amber core with golden edges. A thin white head of fine bubbles quickly reduces to a ring leaving delicate lace, but is short lived, as is to be expected from the fair amount of carbonation. The nose is immediately floral, but backed up by ripe fruit and a hint of sweet bready yeast. At times the scent of a more traditional Tripel is present, but the front and center aroma is definitely coming from the hibiscus and feijoa.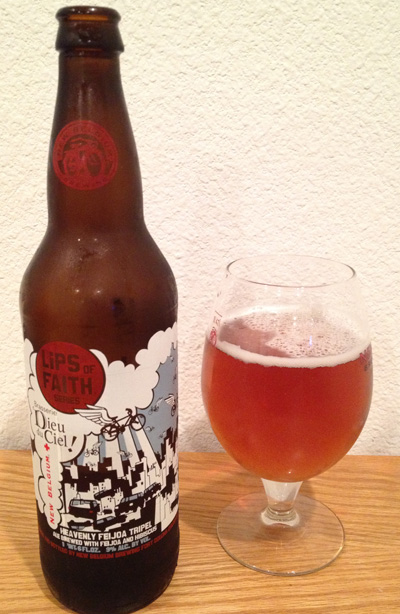 The flavor profile is complex to say the least. The hibiscus and feijoa bring an added level of sweetness to the opening, followed by a hint of iced tea and lemon rind. The Nelson hops hint at white wine. The middle of each taste does offer some traditional Belgian malt, but the tour de force is an exceptional tart finish that offers cranberry with a late peppery spice. A slight alcohol burn warms the back of the throat, but ultimately the tart finish does a great job hiding the 9% ABV.
"Heavenly Feijoa Tripel combines Dieu du Ciel!'s love of hibiscus flowers with New Belgium's passion for strange and worldly fruit. Feijoa, also known as pineapple guava, has a sweet, aromatic flavor, which makes the aroma of Heavenly Feijoa Tripel luscious and tropical. The beer has Belgian yeast and Nelson Sauvin hops, combining to make a sweet fruit taste, mild spicy tones and a sharp bite. Hibiscus adds a cranberry tartness and an ambrosial quality to the color." – New Belgium Website
The end result if that Heavenly Feijoa is everything I look for in a great Tripel, elevated by bold additions that make this brew a worthy addition to the Lips of Faith banner. Ultra-drinkable, lovers of both Belgians and Farmhouse ales will find something special here.
| | |
| --- | --- |
| Name | Heavenly Feijoa Tripel |
| Brewery | New Belgium/Dieu du Ceil! |
| Style | Belgian Tripel |
| ABV | 9% |
| Availability | 22oz. Bottles/Draft |
| Rating | 4 out of 5 |
Cheers
Dave