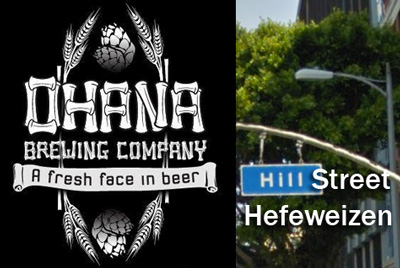 A number of people who I have met while out and about tell me that they love LA's two breweries, at which point I have to tell them that we've got more than two in our fine city. One of the ones that I like to recommend is Ohana Brewing, based just south of Downtown LA. I happened to be on a pilgrimage for an epic burger, which naturally took me to Grill 'Em All in Alhambra where I was able to get some of Ohana's latest brew, Hill Street Hefeweizen.
Ohana Brewing is a relative newcomer to the LA scene, having only started up commercially in August of 2012. Since then, they have steadily expanded their distribution to more than 25 bars and restaurants in the area. They are currently working on a 7 barrel system that they purchased from Craftsman in Pasadena. I've been lucky enough to try pretty much all of their beers and have been pretty impressed. The Hill Street Hefeweizen is their current seasonal release, replacing the Hollenbeck Amber Ale.
The pour is a cloudy orangish amber with minimal head. The aroma is straight up bananas with subtler notes of wheat citrus. It's rather light bodied with average carbonation. The flavor starts with a much subtler banana that moves to a refreshing wheat and finishes on a mellow citrus. The aftertaste has a pleasant lingering banana and a refreshing wheatiness.
This beer was exactly what I wanted with an epic burger like the Rick Reuben (Figueroa Mountain Danish Red Lager braised kraut, house corned beef, thousand island dressing, and Swiss cheese on a half pound burger with caraway topped bun). The light refreshing qualities of this beer were really a good contrast to the meat-pocalypse of the burger. The only note that I'd say would be don't let the aroma scare you off, as the flavor is much mellower. Coming in at only 4.2% ABV, it makes for a very good session beer. If you're a fan of hefes or just looking for a lighter beer to pair with food, I would definitely recommend giving this one a try.
Name
Hill Street Hefeweizen
Brewery
Ohana Brewing
Style
Hefeweizen
ABV
4.2%
Availability
Limited Seasonal
Draft Release
Rating
4 out of 5
Cheers,
Beer Guy LA