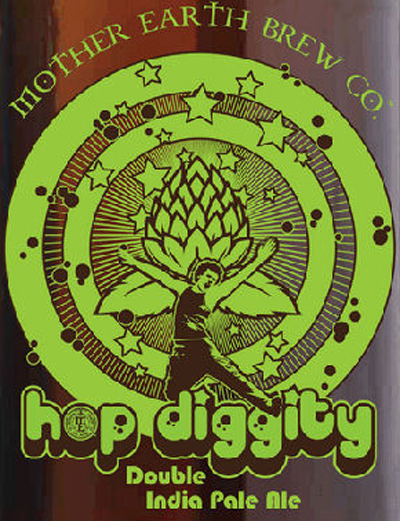 As part of my annual haul of craft beer received during the holiday season, one of the IPA's to make its way under my tree this year was Hop Diggity, a Double IPA by Mother Earth Brew Co. My first crack at a beer from this brewer, I found this one to be remarkably balanced and easy going. A welcomed stocking stuffer for sure. As a follow-up to my Live-Tweeted review earlier today, here is a more formal breakdown of this worthy offering.
The pour on this 8.2% Double is a light caramel, copper color with tones of amber capped off by a thick and frothy cream-colored head that sticks around for a while. Lace is robust and long lasting for the style.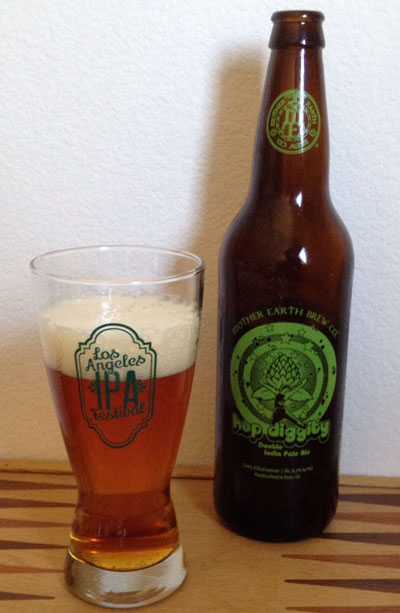 The nose on Hop Diggity delivers on a promise of big clean hops backed up by a bouquet of tropical fruit and citrus tones. Hints of grapefruit and caramel sum up a nice aroma built around woody pilsner malt.
Taste is in line with the nose and presents as a balanced smooth drinker composed of a delicious dose of bitter hop and sweet citrus. The faintest grapefruit rind hangs on the back of a big sweet malt, resulting in a mellow fruity double that ends cleanly with nice mouthfeel and drinkability.
Hop Diggity is an example of a nice clean DIPA executed well. Beer Advocate shows a score of 87%. Overall, this is a smooth, easy drinker. I will look forward to trying more brews from these guys in the future and recommend giving this one a shot should it cross your path in local bottle shops.
Cheers,
Dave
| | |
| --- | --- |
| Name | Hop Diggity |
| Brewery | Mother Earth Brew Co. |
| Style | American Double IPA |
| ABV | 8.2% |
| Availability | 22oz. Bottles |
| Rating | 4 out of 5 |