After a long day, nothing tastes better than an amazing IPA. So for today I present Hopulent IPA from Epic Brewing Co in Salt Lake City Utah. The interesting thing about Hopulent is that the tweak the recipe depending on what kinds of hops and grains they can get their hands on. This review is for release #57, which was brewed on December 6, 2012 (so you experience may vary if you get a later batch). For more info on this particular batch, and any past or future ones, check out Epic's website.
The pour is a cloudy orangish amber with a nice amount of frothy head that leaves a great lace. Strong pine and citrus hop aromas with a bit of sweet malt backing. The mouthful has a medium body with a good amount of carbonation. The flavor follows the aroma pretty closely,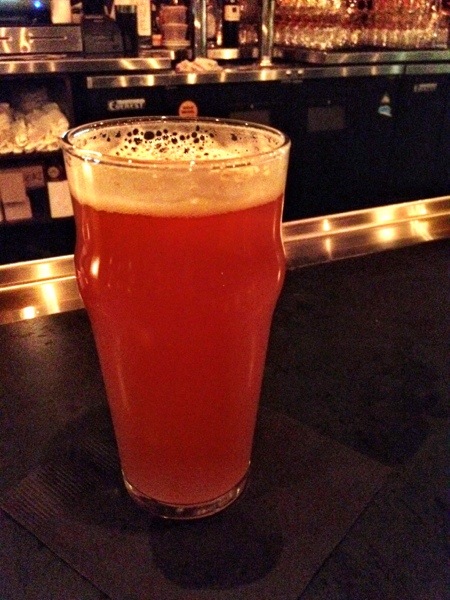 starting off with a sweet caramel malt that moves to a citrusy grapefruit and finishes with a resiny pine. The aftertaste is mostly lingering hoppiness, with a pine and citrus rind notes, that coats the with a bit of stickiness (which is not uncommon for some really hoppy IPAs).

I very much enjoy this beer (and pretty much everything else that comes out of Epic). It's always fun to revisit this one after a while to see impart the differences. But even if you don't want to geek out that much, you can always expect an amazing West coast style IPA. This particular batch comes in at 8.6% ABV, so you may want to pace yourself with it. I was able to find this brew on tap at the Lazy Ox Canteen in Downtown LA (if you happen to come by, say hi to Adam the bartender and thank him for his great work). You can also find this beer in bottle form at most major beer retailers and bottle shops around town.
Name
Hopulent IPA
Release #57
Brewery
Epic Brewing Co
Style
Double IPA
ABV
8.6%
Availability
Draft and Bottle
Rating
5 out of 5
Cheers
Beer Guy LA