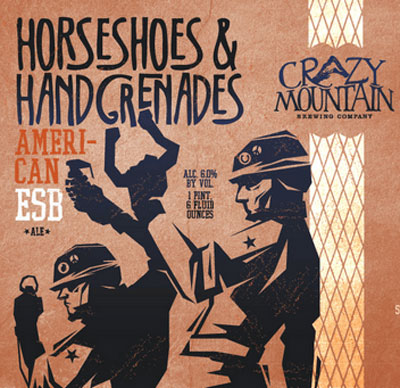 The story goes that when Crazy Mountain brewmaster Kevin Selvy was starting out, as an employee of Anchor Brewing, he mentioned to one of the brewers that he hoped his latest homebrew batch would turn out close to the way it was supposed to taste. The brewer replied that close only counts in horseshoes and hand grenades. This Idiom stuck with Selvy and later became the basis for the name of Crazy Mountain's American ESB, Horseshoes And Hand Grenades.
Now you may have not heard of Crazy Mountain yet, as they are pretty new to the LA scene, but their beers have started to pop up around town. Their core beers, which are all available in 12oz cans, are their Amber, Lava Lake Wit, and Mountain Livin' Pale Ale. Draft wise, I haven't seen their brews around much yet, but I'm sure they will start making the rounds soon.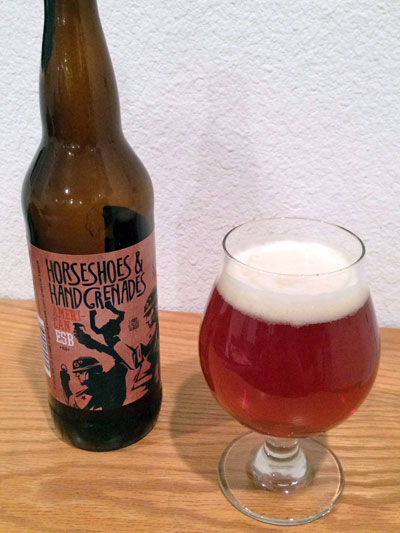 Horseshoes And Hand Grenades is an American ESB (or extra special bitter), a traditionally British beer style known for its balance between malts and hops that has become a staple of the American craft beer scene. Their brew uses Chinook and Amarillo hops coupled with 5 different types of malt to give it a unique perspective on this style.
The beer pours a reddish amber with a nice amount of bubbly white head that mellows out to a bubbly film. The aroma has distinctive maltiness, with hints of toffee, caramel, and a bit of biscuit, that is balanced out with some Asian pear and grassy hops. Its got a medium body with a good amount carbonation. The flavor follows closely to the aroma, starting with some toffee and biscuit malt that moves to a sweet fruity note and finishes with a grassy hop bitterness. The aftertaste has a lingering hoppy bitterness with a crisp Asian pear flavor.
| | |
| --- | --- |
| Name | Horseshoes And Hand Grenades |
| Brewery | Crazy Mountain |
| Style | ESB |
| ABV | 6.0% |
| Availability | Year round bottle release and draft |
| Rating | 5 out of 5 |
Overall, this is a really great take on an ESB that has a great play between the malt and hops that creates a really enjoyable flavor profile. I'd highly recommend this one for anyone looking to try something a little different from the usual West Coast hop bombs or if you're already a fan of the ESB style and interested in an American twist. This beer ranks very high on my list of new beers that I've had and will be my new go to ESB.
Cheers!
Beer Guy LA