Every once in a while, I like to step outside my comfort zone of hop and malt bombs to try something of the lighter persuasion. I recently came across an abundance of Coronado Brewing options and decided to give the Orange Avenue Wit a try.
Like many things in California, this brew started life with a different name. Originally called the Orange Avenue OPA, or orange pale ale, in 2010 it got a Belgian makeover. In its current incarnation, this brew is an ode to the orange trees that once lined Coronado's main street with a footnote to the wheat beers of Belgium. Orange zest, orange blossom honey, and coriander provide a citrus zing to this wheat ale.
The pour has a slightly hazy straw color with a short-lived effervescent white head that lacks any lace to speak of. Biscuit malt with a subtle hint of tangerine make up the aroma.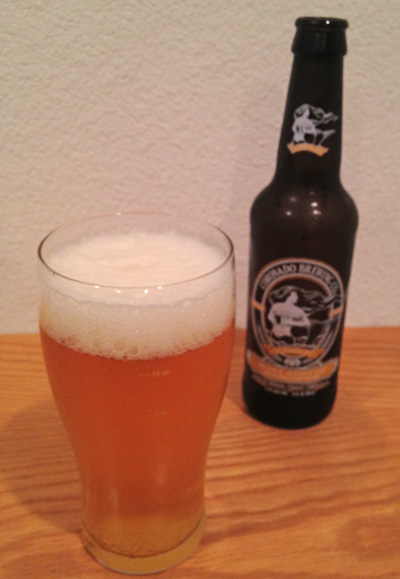 Light bodied with a lively carbonation. The flavor starts with an intense citrus hit, with notes of cara cara and clemintines, that moves to a mildly sweet biscuit malt and finishes with a bitter orange rind with a bit of earthy spice. The aftertaste has a slightly sticky mix of biscuit malt and orange rind that does not overstay its welcome.
I'm going to coin a new category with this one, beermosa. Much like the traditional mimosa, the beermosa has a bit of beer flavor battling a strong, predominantly orange, citrus flavor. This isn't a negative attribute, but it may not be something that everyone appreciates. The intensity of the citrus flavors was a tad off-putting to me in this particular brew, having an artificial orange hard candy flavor at times. All that being said, I could totally see having this with some breakfast. It's an interesting one to try, but I think there might be better executions of this kind of beer out there.
| | |
| --- | --- |
| Name | Orange Avenue Wit |
| Brewery | Coronado Brewing |
| Style | Witbier |
| ABV | 5.2% |
| Availability | Limited Availability |
| Rating | 3 out of 5 |
Cheers,
Beer Guy LA