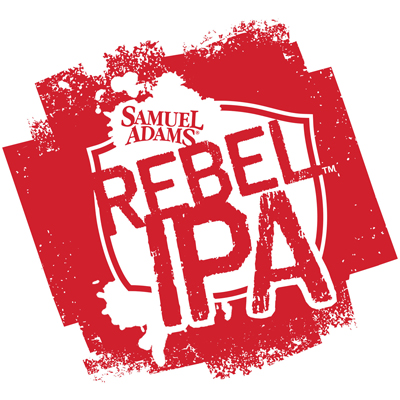 Anybody who has read
my reviews
of Boston Beer Co's offerings can see I have mixed feelings about my home state's craft beer giant. On the one hand I love and respect Sam Adams for being a huge part of my transition into craft beer adoration.
On the other, now knowing all that beer can be, I want to see them release beers that could put the nail in the coffin of this debate over the brewery's craft status. The latest (and thanks to a recent Twitter War most controversial) release to attempt stepping in that direction is Rebel IPA, A "West Coast" IPA that has raised some eyebrows in good ways and bad.
Cracking open the bottle you get a nice big hop aroma, which sadly doesn't stay as potent in the glass. A fairly aggressive pour produces a light frothy cap of white head that doesn't stick around long. The body is golden straw with extreme clarity.
Taste has a clean hop that I wish was brighter. Hints of slight pine and grass accompany a bready malt accented by touches of sage, toasted caramel, and lemon. The brew hosts a dry bitterness that is the hallmark of some of my favorite IPA's, but here falls short of spectacular. The finish is a rapid drop-off of all flavors which I attribute to a slight lack of body.
Sadly, this beer has gotten more attention as the genesis of a Twitter fight between Tony Magee (Owner of Lagunitas) and Boston Beer Co. than it has for it's taste. I don't see Boston Beer Company being able to damage Lagunitas too badly in this situation. Not only is this beer not a fair comparison, but most Lagunitas fans are steadfast in their loyalty to the brand. Rebel IPA is tasty and a nice change for the Sam line-up, but it won't be gnarly enough for people addicted to the likes of Sumpin' Sumpin' or Hop Stoopid.
| | |
| --- | --- |
| Name | Rebel IPA |
| Brewery | Boston Beer Company |
| Style | West Coast IPA |
| ABV | 6.50% |
| Availability | 12oz 6-Packs, Tap, Widely Available |
| Rating | 3 out of 5 |
So the unfortunate story is that this beer is just kind of middle of the road on all fronts. There is nothing here worth waging Twitter wars over. This isn't Sam Adams' first crack at an IPA and it will not be it's last. I welcome the concept of Boston Beer Company producing a viable West-Coast-style IPA, so long as they try to break new ground by doing something new and different.
Cheers!
Dave