The Second beer I got to enjoy at Sunset Beer Co's Deschutes Night was the brand new River Ale. This brew is the newest addition to Deschutes year round line up and is meant to honor Deschutes namesake the Deschutes River. To be frank, this one slipped my radar and I am going into this one completely blind, so let us go boldly into the void of the unknown.
Deschutes Brewery has long been dedicated to their community, a major part of which is the Deschutes River, and this brew is dedicated to that staple of the community. They wanted to create an approachable beer, that has a drinkability comparable to session ales but with their own signature twist. After many experimental batches at their pubs, they crafted a "well-balanced and refreshing ale, full of Cascade and Crystal hop character, malt poise and a large helping of craft passion."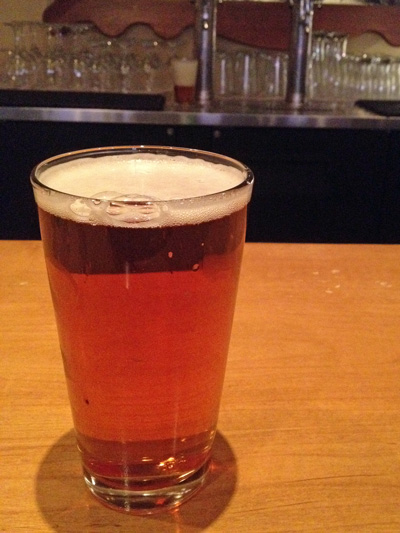 The pour has a nice amber color with small amount of frothy head. The aroma has a sweet caramel malt with some floral, herby notes. Pretty big bodied with minimal carbonation. The flavor starts with a doughy bread with a bit of rye spice that moves to a caramel malt and finishes on a very mellow grassy hop. The aftertaste has a dry mix of doughy malt and grassy hop bite with just a hint of spice.
Overall this is a pretty good session beer. It's got a decent amount of flavor but not enough to really leave much to remember it by. With the idea of it being a session beer that can be enjoyed while taking it easy, it definitely succeeds. I wouldn't say I'd be hunting this one down any time soon, but if I was going to a barbecue or party with less beer nerdy friends, I'd say this would be a safe bet to bring. You can expect to see this beer popping up around town, draft and 12oz six packs, starting in March of 2013.
For those who might be interested this brew is the replacement to Green Lakes Organic Ale, which was retired last year due to the politics of producing organic beer and the waning interest in the amber style.
Name
River Ale
Brewery
Deschutes
Style
Golden Ale
ABV
4.0%
Availability
Wide Bottle and
Draft Release
Rating
3 out of 5
Cheers,
Beer Guy LA