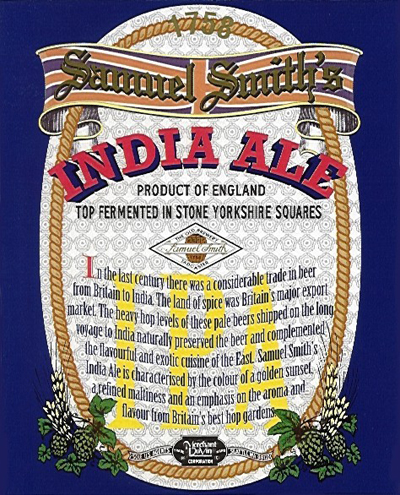 Sometimes I like to play that game where you go into a bottle shop and put a cap on what you can spend. The challenge is to come out with multiple quality beers for the amount you may have spent on just one and to force yourself to pick up those beers you pass over regularly. On this occasion I pushed it a little further, by sticking only to the imported beer section. I've stared at the text-heavy label of Samuel Smith's India Ale on many trips to many craft beer purveyors. To my amazement, it wasn't half bad for a beer under $4.00
The body is fairly clear and mainly straw with amber tones at its core. The head begins as an inch or so of frothy foam, but quickly reduces to a thin almost non-existent ring.
The nose holds light fruit and yeast but lacks the punch of hop one gets from a west coast IPA. Instead a toasted caramel malt plays front and center with some light grassy hop playing second fiddle. The taste, as with the nose, is also malt forward but not unpleasant as it coasts to a finish of light, bitter hop. The toasty, bready, caramel malt dominates as you acclimate to the beer and feels more like a Marzen in some respects than a standard IPA.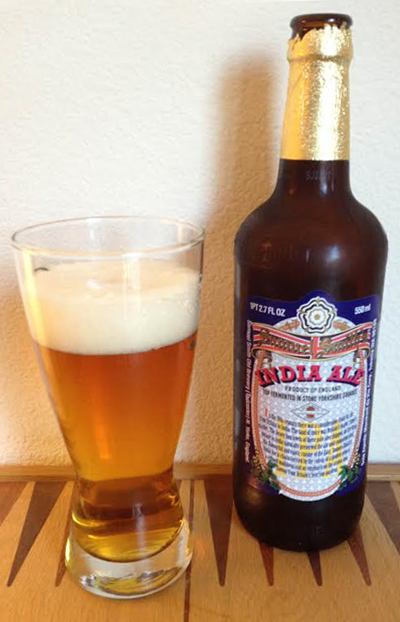 This is due to Samuel Smith's brewing process, which utilizes stone Yorkshire squares, a two hundred year old water well, and the same yeast strain they've been using since the nineteenth century. The Yorkshire Square fermentation method involves stone or slate tubs that are connected between between the first and second floor. They use the natural pressures and gravity and fermentation to cycle the beer through this two "tank" system and the result is a creamier beer with a cleaner malt profile. The process is more eloquently described by the late beer historian Michael Jackson.
"Nearer to York, the small town of Tad-caster ("second city", after Burton, in British brewing) has Samuel Smith's. This brewery uses stone squares to make its maltily creamy ales. Once, Yorkshire sandstone was employed. Today, Welsh slate is preferred. – In the Yorkshire square system, the turbulence of fermentation forces the liquid to circulate between a lower and upper chamber. This trains the yeast to work slowly, leaving much of the body in the beer and imparting a well-absorbed carbonation. That Yorkshire creaminess is enhanced when the beer is served through a tight nozzle at the pub."

| | |
| --- | --- |
| Name | Samuel Smith's India Ale |
| Brewery | Samuel Smith Old Brewery (Tadcaster) |
| Style | English IPA |
| ABV | 5.00% |
| Availability | Bottles Widely Available |
| Rating | 3 out of 5 |
The make-up of Samuel Smith's India Ale was certainly unexpected. When I think of "cheap" IPA's I have taken a chance on in the past, they usually suffer from a terrible off-balance quality. This beer doesn't have that problem, you just need to adjust your expectations because it is made in a far different manner than the IPA we've come to expect. Though hop junkies may find something to be desired from this brew, it was a step outside of the norm I don't regret. With a score of 83 and over 1,200 ratings on Beer Advocate, it would appear many others find it intriguing as well. This beer and many other Samuel Smith brews can be found at just about any bottle shop.
Cheers,
Dave