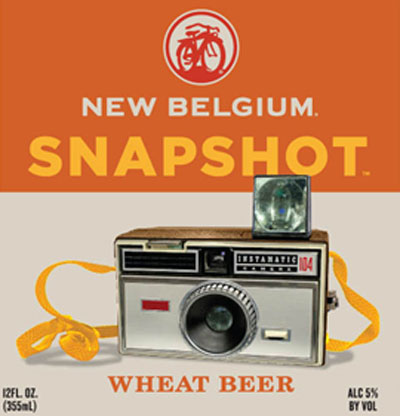 The humble wheat beer doesn't get a whole lot of love in the craft beer community. Sure, a wit will capture that fancy of beer nerds for a moment here or there and, on rarer occasions, maybe even a hefeweizen (all of which I'm going to blame on Shock Top). That being said there is definitely a market for them with those who are looking for less extreme hop and malt but still flavorful taste, which is evident from beers like Eagle Rock Manifesto and Hangar 24 Orange Wheat. So it was kind of surprising to hear that New Belgium was going to fill the vacant year-round production slot left by Mothership Wit, which was discontinued due to poor performance, with another wheat beer. But Snapshot isn't your average wheat beer.
Snapshot starts out as a traditional wheat ale, using Target hops, coriander, and grains of paradise for character, but takes a decidedly different turn towards the end of the brewing process. Keeping in line with New Belgium's revived mission of bringing sour beer to the masses, they actually brew a second batch with lactobacillus to add an extra layer of tartness to the beer. This lactobacillus fermented version is then blended with a traditionally fermented base to for the final product, creating an unfiltered, sessionalbe wheat beer with a bit of tartness to it. As with many things that New Belgium does, they feel that this slightly soured beer harkens back to the Belgian heritage of how wheat beers started out.
The beer pours a hazy straw with small complement of bubbly white head. The aroma is pretty wheat forward but with a bit of tart apricot and lemon. The flavor starts with a pronounced wheat that opens up to a progression of lemon tea to white grape and wrapping up on a apricot note. The tart flavors present as a subtle pucker as you drink the beer, reminiscent to fresh lemon. The finish has a lingering wheatiness with some subtle apricot notes that makes for a refreshing experience.
| | |
| --- | --- |
| Name | Snapshot |
| Brewery | New Belgium |
| Style | Wheat Ale |
| ABV | 5.00% |
| Availability | Year-round bottle, can, and draft |
| Rating | 3.5 out of 5 |
Though, not as much tartness as I was hoping for, this is a very drinkable beer. It will be interesting to watch where this one goes, as this is one of the first widely available soured beers to hit the market (well at least soured on purpose). The flavors are very approachable and may vary well lead some people to start a journey down the soured beer path, on which New Belgium has some great offerings. Personally, I could see this being a good summer beer, with its light, refreshing flavors and low ABV. You will start to see Snapshot at most retailers that sell New Belgium as well as in future releases of their Folly Packs (AKA mixed 12 packs) and, in the near future, 16oz cans (making it the first sour beer to be available in cans).
Cheers!
Jeff Prosser