I have to admit that it was the low cost, at under $3.00, that has kept me from trying Spaten Optimator. Brewed in Munich by Spaten-Franziskaner-Bräu, I thought there was no way a quality beer could make it from Europe to America and through customs at that cost. Thankfully, I have learned my lesson. After some urging from fellow beer lovers I grabbed a large bottle and what I found was a delicious offering that may be one of the best values on the market.
The Spaten website describes Spaten Optimator with a simple sentence:
"Bottom-fermented Dark Beer 'Doppel Bock' with a deep dark color and a rich roasted malt flavor."
Talk about underselling a quality product. It would seem after six hundred years of tradition, beginning in 1397, they have learned to let the beer speak for itself. In true German fashion they are no nonsense and seem to lack gimmicks. An Oktoberfest mainstay, Spaten is the oldest brewery in Munich and one of the oldest and most popular in Germany.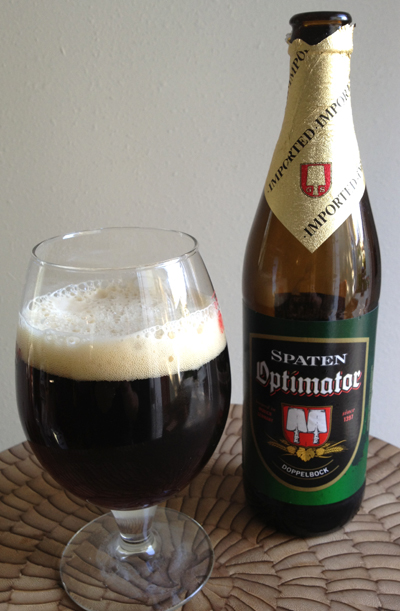 Reading the label, I was surprised to see the beer classified as malt liquor. Coming in at 7.6%, I have certainly had higher ABV beer that didn't carry this classification. Poking around on the internet seems to point to the fact that some states require all beer over a certain ABV to be labelled as malt liquor, so Spaten surely does this to streamline their international distribution. Do not let this label scare you off. Rest assured, this is a great dark beer with absolutely no kinship to Colt 45, Hurricane, St. Ides, or anything referred to as a "40."
The pour itself is an inviting deep black with ruby highlights. One finger of off white head quickly melts into a thin ring leaving great lace down the glass. The nose is of bready sweet malt, mainly comprised of dried fruit such as plums and raisins.
Similar flavors open the initial sip, which has a great body and mouthfeel. Interestingly, the beer finishes on a strong malt note with a hint of booziness that makes for a great aftertaste. The initial carbonation fades not long into the glass and what is left is a great malty doppelbock that is super smooth and bolsters nothing if not extreme drinkability.
As stated previously, after sampling this beer I find it to be one of the best values on the market. It is absolutely worth a try if you are a fan a dark malty brews with character.
| | |
| --- | --- |
| Name | Spaten Optimator |
| Brewery | Spaten-Franziskaner-Bräu |
| Style | Doppelbock |
| ABV | 7.6% |
| Availability | Widely available |
| Rating | 4 out of 5 |
Cheers,
Dave