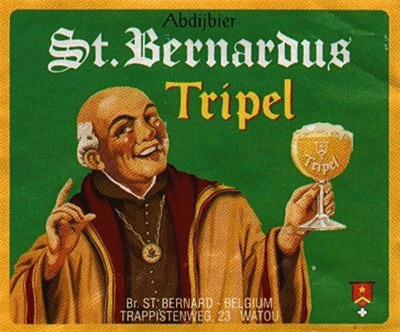 On a recent trip to the local bottle shop I found myself once more sucked into the tractor beam I call the Belgian section. Already struggling to carry other selections, I could have easily hit the register and been on my merry way, but the sight of so many 12oz. tripels proved too great a temptation and alas, I offer a review of St Bernardus Tripel by Brouwerij St Bernardus NV; a smooth and inviting example of the style.
The pour is a clean golden color with subtle haze from fine sediment in the bottle. The head is pillowy and bright white. Though there is no lace, the head lasts through to the bottom of the glass, slowly reducing from two fingers to a strong white ring around the surface. Immediately I am able to see why the beer has earned a 95 on Beer Advocate.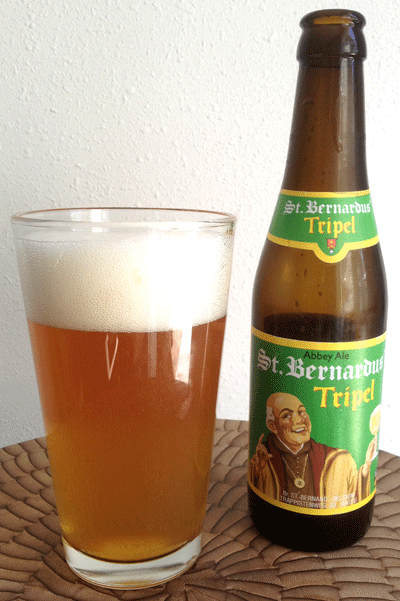 The nose is at first of a plum and pear fruitiness, then gives way to doughy yeast and a slight whiff of booze hinting at its 8% ABV. Taste opens with a similar fruit sweetness descending into smooth malt and yeast. The mouthfeel is great, medium-bodied, and smooth. The finish is a mix of booziness and spice creating a slightly tangy warming burn in the back of the throat that exceeds my expectations for an 8% brew.
In a word this beer is balanced. Nothing is overdone, but nothing is lacking. It is a stick by which a good Tripel can be measured. Carbonation, malt and spice come together masking a potent 8% brew underlining all of the things I enjoy about the style. Drinkability is high, and the ABV certainly creeps up on you. Widely available for around $5.00, I say a 12oz bottle of St Bernardus Tripel is a great addition to your basket next time you find yourself caught in the Belgian tractor beam.
| | |
| --- | --- |
| Name | St Bernard's Tripel |
| Brewery | Brouwerij St Bernardus NV |
| Style | Belgian Tripel |
| ABV | 8% |
| Availability | 750ml or 12oz. Bottles |
| Rating | 4 out of 5 |
Cheers
Dave