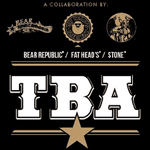 The latest installment in Stone's collaboration series is a brown ale that comes from where the stars at night are big and bright… Deep in the heart of Texas! For TBA (Texas Brown Ale), Stone teamed up with brewers from Bear Republic and Fat Head, sadly neither of whom are from Texas, to create an homage to the roots of the modern American brown ale (or at least one incarnation of it).

When most people think brown ale they imagine a dark, smooth, nutty ale in the style of New Castle or Samuel Smith. The Texas brown ale is nothing like that. The origin of this style actually starts in California where homebrewers took English brown ale recipes and gave them the ole "California hop the hell out of it" treatment. This dark hoppy creation won some popularity, but didn't really take off till after a Houston Texas homebrew competition made a new category for it called "California Dark", at which point the American Homebrewers Association decided it should get its own category from them as well and came up with Texas brown ale, even though the style didn't originate in Texas. Seeing as Texas is a part of America, this style was later wrapped up into the very broad category of American brown ales, where it has been somewhat lost. The most notable of the Texas brown ales was Pete's Wicked Ale out of San Antonio Texas, which was discontinued in March of 2011.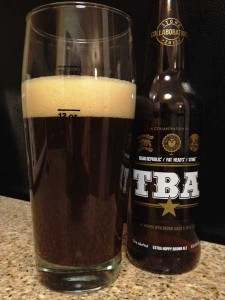 The collaborative efforts of these three brewers produced a modern twist on this offshoot style. They added molasses and brown sugar to the brew for a deeper complexity and this brew marks the first time Stone has ever used Cascade hops(which seems a bit crazy to me seeing as almost every other craft brewer uses them in some capacity). They also used a number of specialty ingredients including imported Maris Otter, Munich, Victory, wheat, and chocolate malts.
As with all the Stone collaborations, TBA comes in a 12oz bottle and will run you about $3 to $5. I was able to pick up a few at K&L Wines in Hollywood, but the collaborations usually pop up at most of the beer places around town shortly after release. This beer is a single time release, so you shouldn't wait on picking one up if your interested in trying it. The pour is a cloudy dark auburn with a generous amount of slightly brown head and a good amount of lacing. The aroma has a strong molasses and earthy malt smell with notes of citrus hops. Nice medium body with a slight creaminess that leads with an earthy malt, moving to a sweet molasses or burnt sugar, and finishing up with a strong bitter hop and lasting earthy malt. At 7.1% ABV, it brings just enough kick to make it nice but not overpowering.
Overall I would say this is a great beer, but don't go into it expecting the usual brown ale. I personally really enjoyed the slight sweetness with the big hop. If you are interested in trying something different in the hoppy vein definitely pick one up.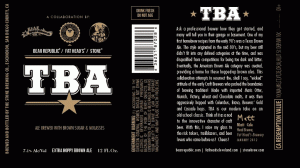 Name
TBA
Brewery
Stone / Bear Republic / Fat Head
Style
American Brown Ale
ABV
7.1%
Availability
One time bottle release,
Very limited draft release
Rating
4 out of 5
Cheers
Beer Guy LA