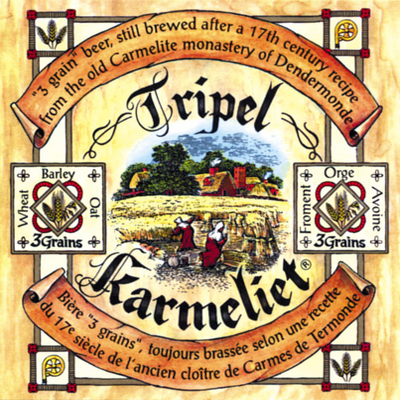 Taking advantage of a recipe dating back to 1679, Tripel Karmeliet benefits from over 300 years of Belgian tradition. A simple 3-grain recipe of oats, wheat, and barley married with aromatic Styrian hops proves quite effective here, delivering an exceptional Belgian Style Tripel. Apparently veiled in secrecy, the Bosteels website offers little in the way of information regarding actual ingredients, stating only that they are of the highest quality. According to RateBeer the brew has been in production since 1996.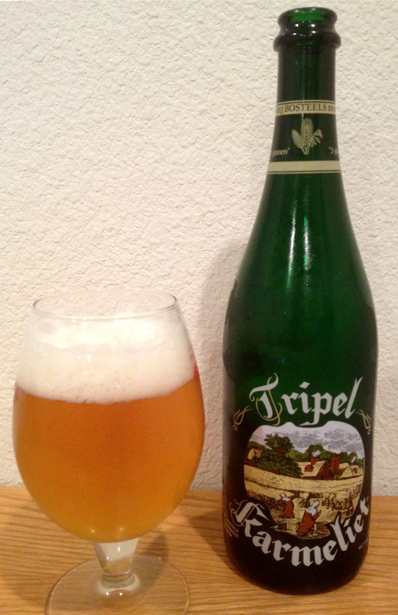 The pour is a honey-blonde color one would expect from a good tripel. The head is creamy, composed of two fingers worth of fine white bubbles that reduce to a thin veil on the surface. Light lacing carries through to the bottom of the glass. The nose pleasantly teases hints of banana, pineapple, and vanilla with a forward dose of floral sweetness and bready yeast.
Coming in at 8.5% ABV, the carbonation is just right with a mouthfeel that is dry and champagne-like. All of the claims to quality on the label are true to life. The bottle conditioned brew is in fact robust, smooth, and heavily accented by fruit and spice. The flavor is led by a hint of pear with a bitter zest note, transitioning to a bready sweet malt that finishes on a strong pepper-spice note. A pleasant aftertaste finishes with a warming burn on the back of the throat that is the only real presence of booziness.
The sum of these parts is a highly drinkable, well done Tripel. A prior Gold and Silver medal winner at the World Beer Cup, this is the kind of beer that begs to be opened on special occasions or gatherings with friends. At around $12 per large bottle, it is worth every penny. Its dynamic characteristics open up as the beer warms, making it ideal for discussion. While fans of Belgians will not be disappointed, this beer is very approachable for novices as well.
Name
Tripel Karmeliet
Brewery
Brouwerij Bosteels
Style
Belgian Tripel
ABV
8.5%
Availability
Wide Draft and
Bottle Release
Rating
4 out of 5
Cheers,
Dave