A lot of the beer I drink is big, bold, and in your face. But on rare occasions, I do enjoy the subtler things in life. On one such day, I decided to try Flying Dog's UnderDog Atlantic Lager, in honor of William Watts Biggers, the man responsible for helping create the Underdog cartoon.
The North American lager is pretty much what happened when German immigrants got to America and wanted something close to a Vienna lager but had to improvise due to the lack of certain European grains. Over the years, the style degenerated into the yellow swill that most American macro breweries try to push on the masses. Luckily, there are a few craft breweries keeping the style alive in a fashion closer to how it all began. The key ingredient of a true North American Lager is a mix of corn and barley, which ties us to Mr. Biggers, who helped create the character of Underdog to sell cereal for General Mills. Though Flying Dog is keeping with the style, they added rye, wheat, and cara-pils to the malt bill to help liven up this brew.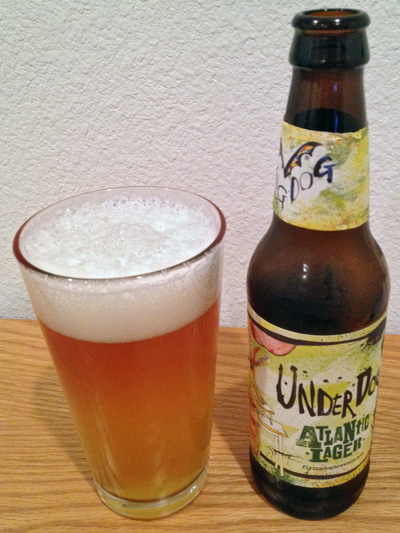 The beer pours a mostly clear straw color with a rocky white head that dissipates rather quickly. The aroma has a strong cereal malt presence with subtler notes of lemon and grass. Very light bodied with good carbonation. The flavor starts with a hint of lemon that quickly moves to a cereal malt with a slight grassy, bitter hop finish. The aftertaste has a lingering lemon flavor and a bit of bready malt.
Overall, this beer keeps things pretty mellow. It's got just a hint of the hops and lets the cereal maltiness to most of the heavy lifting, but within the lager style that is perfectly acceptable. This beer represents a perfect gateway craft beer that someone who hasn't had a lot of exposure to the craft scene might enjoy. That being said, I'd probably pass this up for something with a bit bolder flavor, like a good black lager, in the future.
| | |
| --- | --- |
| Name | UnderDog Atlantic Lager |
| Brewery | Flying Dog Brewery |
| Style | North American Lager |
| ABV | 4.7% |
| Availability | Year-round Bottle Release |
| Rating | 3 out of 5 |
Cheers,
Beer Guy LA