I told a coworker that a buddy of mine just lost his job. "So you're going to go drink a beer with him and pretend that you care," he said. "That is until he asks to borrow money."
"I don't have any money to give him," I said. "We're just gonna have a few and he can let it out."
"Sure."
When he called me, I had just arrived at my apartment. It had been an early shift. I was tired. I didn't really feel like talking to anybody. I usually don't. The plan was to head to Eagle Rock Brewery. I didn't have a car and he was going to have to pick me up. I was waiting in my dirty apartment thinking maybe it would've been better if I told him that I couldn't go. That I was sick. I'll have to cheer him up. I hate saying things like, "You're not your job" or, "You're better than that place." Everybody says those things. We've known each other too long to start a conversation like that. He'll really want to talk.
It was grey out. The cement was still damp from the morning's rain. He pulled up and I got in. He wasn't looking sad or anything.
"You don't have to come along if you're not feeling it."
"No," I said. "Let's go. I'm good."
We didn't say anything for a time. We were heading through Highland Park.
"Well, how do you like you're new freedom?"
He smiled.
"I'm still not sure which bridge I'll drive off of."
"I can help find one. A good bridge. But I'll be getting out."
He laughed a little.
"You ready to drink some good beer? I'll pay."
"No you won't."
"I'll pay for some."
"OK. That's fine," I said.
He turned off San Fernando Road onto Roswell Street, which was more like a small alley. We reached Eagle Rock Brewery. There was no sign. The brewery itself is just a large industrial building on the corner of Roswell and Delay. You could easily drive by it if you didn't know what you were looking for.
"We're not going to be able to park in the lot," he said.
We parked just down the street on Delay. I followed behind the hunched shoulders of my friend into the parking lot. There was a food truck there. There usually is. Different trucks rotate so there is an ever-changing variety of food one can eat at the brewery. You can look online for the schedule. You can also bring your own food or have food delivered. As far as I know the only indication that you can actually drink beer here is on the brightly painted orange door that says "Taproom Hours."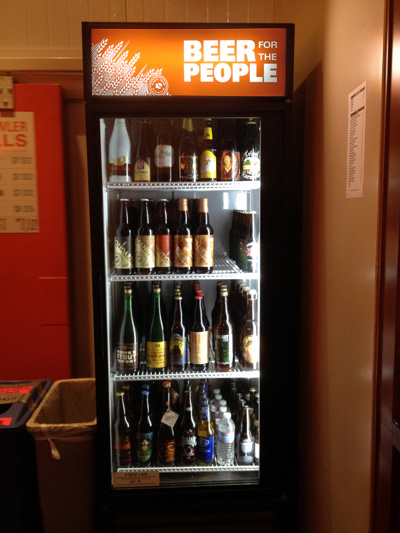 It was early on a Friday, so it wasn't that crowded inside. Maybe fifteen or so people spread out in the relatively small space. To my right was a large window that looked out into the parking lot. On the counter there was a large bowl filled with pretzels that you can scoop up and pile into small brown paper bags, which I immediately did. The rest of the shelving was for the usual brewery merchandise: hats, shirts, sweatshirts. From Brew-opoly to Scrabble, there are also a number of board games (not for sale) that one can choose from and play. There is a single chiller with various bottles of their beer as well as other select craft beers and ciders that can be drank there or taken home. The top of the chiller has their slogan in thick white letters on an orange background of grain: "Beer for The People."
My friend was already chatting with Andrew, a regular face behind the bar and in the brewhouse. In fact, all the key players have somewhat comical, painted portraits that line the far wall of the taproom. This is really a family run brewery. The door behind the bar, often left open, reveals an office that i'm sure all of the business for this place is done in. It's a small, well designed brewery. And it's grown to become a staple of the LA beer scene. In 2011 Los Angeles magazine named Yearling, their seasonal flanders red ale, as best local brew. They also received a gold medal at the 2010 Great American Beer Festival for their Pro-Am beer Red Velvet. The italian riverbed bar only sits six people, and there are six tables that fill the rest of the space. A single burgundy painted wall and numerous small hanging lights radiate a very relaxed and mellow atmosphere.
"Almost like a social hall more than a bar," my friend would say. "But on a Friday or Saturday night the place can get packed."
"What do you want?"

I stopped eating pretzels and looked at the magnetic signs behind the bar. There were seven house beers and one guest tap. Solidarity, Manifesto, Revolution, and Populist, are all available for $5 a pint. They also have a rotating assortment of seasonal beers that are available, this particular day they had Jubilee, their winter beer. A taster is $2, $4 for seasonal beers, and a discount if you buy a flight. Growlers, both 1 liter and 2 liter, and fills are available with prices differing depending on the beer and quantity, but generally $7 to $12.
"I'll have the Manifesto" I said.
He ordered the Solidarity. In retrospect our beer choices were incredibly appropriate. A table was open and we sat down. It was time to talk. I didn't know what to say.

"Drink your beer."
"So you know," I said. "You're not your job. Besides, you're better than that place."
"I know. We don't need to talk about that."
"What do you mean?"
"About me being unemployed."
"I'm sure you'll find another job."
"Hope so."
"You will."
"Let's just drink the beer. We can talk about work later."
"I mean what I find funny is that people go on and on about how much they hate their jobs. And then when they lose it they feel worthless. I don't look at jobs that way."
"You want to talk about my job?"
"Ok. We don't have to talk about it."
"We can relax. This is some of the best beer in Los Angeles."
I drank the beer.
"It's real nice," I said.
The only other window in the place looks into the brewery itself. The large stainless steel vessels were shining. There were stacks of kegs and people walking back and forth. You can take a tour on Sundays. "Beer For The People." I read again on a label. OK, I thought, I'll just drink the beer. It was warming. As I sat there taking sips of the witbier, the hum of the people seemed to move through me. I started looking around. There were the two middle-aged women next to me talking about their kids. Past them was an old man visiting from New York. He was joking that his son was buying the beer and not him. The two well dressed guys at the bar seemed to share that awkwardness of being on a first date. Jeremy, one of the owners, was sitting across from us on his laptop typing away at something. The loner by the window was just looking into space, dreaming. There were also the people in the brewery. All of them working away on the next batches, making the stuff that brought us all here. All of us just people doing what we do. And there we were. The two friends that have known each other for a real long time.
We finished our beers. A smile came over his face.
"You want to get some tasters?"
"Sure."
"Hold on."
He was getting real excited about sharing this with me. About being here. So was I. He ordered at the bar and I watched him as he walked over with a flight of four tasters all held together by a piece of wood with holes in it. I took mine. He took his. We each took a sip. It was smooth. Very refreshing. It was Unionist, one of the best Belgian Pale Ales I've ever had. He was looking at me.
"How is it?"
"It's a great beer."
"Good," he said. "What else you like about it?"
Eagle Rock Brewery
3056 Roswell Street
Los Angeles CA 90065
323-257-7866
Hours: Wednesday – Saturday 4-10PM & Sunday Noon-6PM