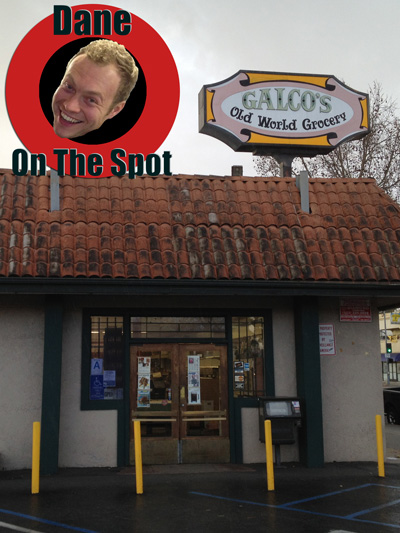 If you're heading through Highland Park down York Boulevard you should stop off at Galco's Soda Pop Stop. Family run for over one-hundred years, John F. Nese took over the business from his father and began stocking the shelves of this once Italian grocery store with various sodas from all over the world. In recent years John has designated half of his store to beer.
When you first enter the unobtrusive building you might be taken aback by how sparse it is. Boxes of soda take up the front portion of the space. To the left is staging devoted to merchandise and old time novelty items such as wax lips and even candy gum cigarettes. I used to love those as a kid.
It was starting to rain the day I showed up. I walked under the Spanish tiled awning, the Galco's Old World Market sign above. I chatted with one of the clerks who was nice and seemed willing to share some of the shop's history with me.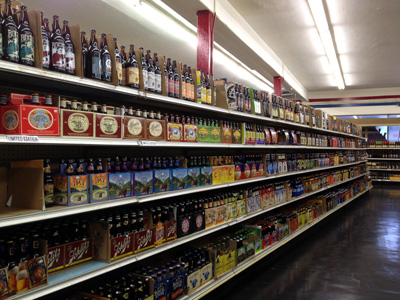 The owner, John, wasn't there, but he is usually working, running around with his red apron on. I perused the beer aisles, the fluorescent light gleaming off the patriotic red, white, and blue paint job. I stood there for a time listening to a conversation between a customer and the lady behind the deli counter. I got a sense that she has been making this guys lunch for years. I've never had one of their sandwiches, but the word on the street is they're pretty good.
There are four aisles, but instead of canned food and toilet paper, they are stocked with two things: soda and beer. The motto could be, "Let's keep it simple." The only impediment to that is the sheer volume. With around 600 different beers to choose from you might find yourself walking back and forth, biting your nails with indecision. The beer is divided by domestic, imported, and Belgian. Plus, an assortment in the chillers. John seems to hold true to the attitude that if it can be found easily elsewhere then why stock it, seeking out some hard to find American craft brews. I was told that new batches of seasonal ales arrive weekly.
I was tempted at the sight of Flying Dog's Pearl Necklace Oyster Stout, but ended up grabbing a six-pack of their Underdog Atlantic Lager and Deschutes' Black Butte Porter. I stuck around a little longer, for no particular reason other than the inviting atmosphere. A place to get out of the rain.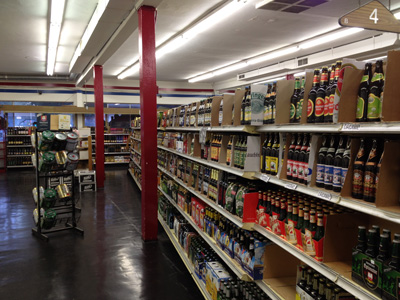 In a way the store reminds me of the small town grocery that my dad would take my sister and me to when we were kids. The type of store where you get to know the people who work there. You chat up the owner as you talk about, whatever, it doesn't matter. The point is, a store like this is rare. With the help of the internet and the wholesale shipping of soda (not beer) it seems to have solidified itself in an ever-changing city. And as with most places that were once a normality in American life, Galco's is becoming quite "retro-popular" with the hipster crowd.
I got in line, setting my beer down at the register. For a moment I was tempted to buy a packet of candy cigarettes. But I didn't. I never really liked the flavor of those things anyway. Back then it was just the thrill of acting grown up. For now, I just like knowing that those candy cigarettes, and wax lips, and beer and soda are there. A drive away. I'm glad a place like this is still around. Simple. Classic. Perfect.
For old time's sake, as they say…
All best,
Dane