The first time I went to the Stone Company Store in Pasadena, I took the Metro Gold Line with the intention of quickly getting my two-liter growler filled with Enjoy By 11/09/12 IPA. There was no more than fifteen people waiting outside the store when I stepped off the train at the Del Mar Station and made my short trek across the tracks. The weather was perfect and I was 20 minutes early, so I killed some time looking at the Stone Brewing website.
It didn't take long for a real line to form. By the time eleven rolled around, more and more people had shown up seeking this elusive special release beer. When the slow progression of the thirsty herd allowed me to enter through the glass doors, the line had stretched along the cement patios of the nearby restaurants as far as I could see.
This scene only adds to the insurmountable popularity of Stone Brewing Company. In today's beer-geek world, Stone is at the top and their slogan might as well be what the poster says by the door, "Fizzy Yellow Beer Is for Wussies." I overheard someone saying they drove up from Irvine. Another couple, with Stone T-shirts on, drove down from Santa Barbara. Unfortunately not all of them were going to leave with what they came for as there was only a limited supply of that particular beer.
I was one of the lucky ones. My growler was filled with what I had come for and I was happy.
I have since been back to the store many times. Most of those times it hasn't been as packed, but a Friday night there can keep you on your toes. The store itself isn't very large. It's a shop-sized rectangular space with a neo-industrial interior design similar to the facilities at the brewery. The gray walls are contrasted by steel and you can see the plumbing running along the ceiling. The store is filled with various Stone merchandise. You'll find the usual T-shirts, sweatshirts, hats and jackets as well as a number of Stone glasses to go with the beer. As one customer said, "the type of glass makes all the difference." I'm not sure I agree with him, but if you want a nice glass to sip a damn good beer from, you can find them there, adorned with your favorite Stone logos and slogans. On the shelf one can also find books related to Stone and craft brewing, as well as some special Stone hot sauces, mustards, candles, soaps, and dog treats.
But the beer is the rub. The store has 24 taps, lined up along a the far wall, all with the familiar chiseled rock tap handle with its white on black lettering. There are classics like Arrogant Bastard, Pale Ale, IPA, Stone Sublimely Self-Righteous, and Ruination, as well as a rotating assortment of rare and limited releases, like the 12/12/12 Vertical Epic Ale (my most recent growler fill). The bar is appropriately a dark granite stone, parts left jagged and pointed, to further the Stone effect. They offer small taster pours of any beer on tap for about two dollars a piece. And of course, you can imbibe with a 16 or 8 ounce pour to your heart's content. Growlers are available in three sizes and there is a small selection of bottles in the back.
I stopped by just the other day with Beer Guy LA and we stood at the bar enjoying a tasting of the new Pale Ale with Ginger. And for those inevitable people that want to sit down, well, there are wooden tables and chairs in the small, welder chic, rebar fenced patio. Unfortunately you can't take any open beer beyond the patio.
The employees have always been very nice and obviously happy to be working for Stone. This isn't a normal bar and because you are buying directly from the brewery itself, you'll be a bit surprised at how much information they must enter into the computer when you actually buy your beer. It can take longer than one is accustomed to in today's swipe-it-and-leave mentality.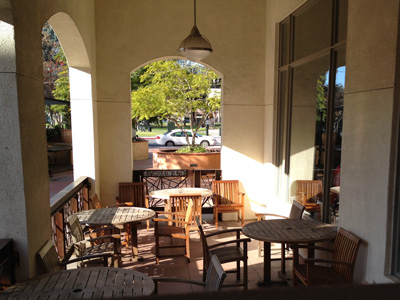 For travelers that drive "responsibly" there's ninety-minute free parking at the Del Mar Station parking garage. This garage serves as parking for the small police station there as well, so be warned. And as stated above, the Gold Line's Del Mar Station couldn't be any closer if you choose to take the Metro.
Either for a social night out, or a quick (or long) growler fill, I can say that I've enjoyed my time at the Stone Company Store in Pasadena immensely. The hours of operation are Mon-Thu, Sun: 11am – 9pm and Fir-Sat 11am – 10pm. You can visit the Stone Company Store website or Facebook page for updates on their calendar of events.
You might see me there for the next Enjoy By release on January 15th.
All best,
Dane