There has been quite a bit of discussion about growlers lately and we here at Beer Guy LA would like to help inform everyone on what all this means to you, the beer buying public.
Let us start with a review. Growlers are vessels used to transport beer from point A to point B. Though a true origin of the word is a bit elusive, the term probably comes from the 1800s when fresh beer was carried from the local pub to one's home by means of a galvanized pail. These pails were called growlers because of the growl that would come from the lid as CO² escaped. Today, it refers to a glass, metal, or ceramic half-gallon jug used for take-out beer. In the US, each state has the ability to regulate growlers however they see fit. In California, growler sales are governed by state law, the Alcohol and Tobacco Tax and Trade Bureau, and the California Department of Alcohol Beverage Control. Like any true bureaucracy, this is where things start to get pretty convoluted, but we will get to that later.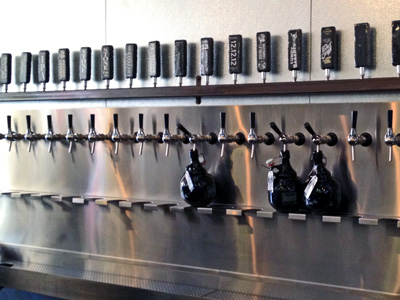 Presently in our lovely state, if you want to get a growler full of beer you would need to go to the brewery that makes that beer, purchase a state approved brewery branded growler, and pay for the fill of your choice of beer made by that brewery. The primary benefit of this system is that the breweries have direct control of the vessel or vessels into which they will fill their beer, whether that be cleanliness, type of cap on the jug, or any other standards by which they think their beer will be presented as best as it can be to the consumer. It also removes any guesswork for the brewery as to the capacity of the growlers, so no one is getting shorted in the transaction. The main issue with this practice is that the consumer is then obligated to purchase a growler from each brewery that they would like to frequent for fills, amassing a collection of these jugs. On the brewer's side, it also means that they must take time away from brewing and selling beer to design, purchase, and store growlers proportionate to the demand of their customers.
Now this is all fine and well, but back in February of 2013 the ABC decided to let everyone know that things weren't quite as they seemed and issued a reinterpretation how growler sales can be conducted. The new interpretation of the laws pertaining to growlers at first glance seem to make perfect sense. The growler must have a label stating the pertinent information about the beer, be sealable, and any information not pertaining to the beer being filled must be obscured. Some examples were shown to brewers ranging from stickers to hand writing on tape.

Thus began an internet frenzy surrounding this re-imagining of the rules. The forums on RateBeer and Beer Advocate were the epicenters of this discussion. There were a lot of comments on how great this will be and how this changes everything in terms of growlers in California. There were also some nifty info-graphics that started making the rounds on Facebook and Twitter proclaiming "Yes We Can!" and stating the key points of the ABC's new stance. This all lead to quite a bit of entitlement and taped up growlers being shoved at unsuspecting brewers.

This all sat on the table for a few weeks while the brewers tried to get a grip on the situation from their side. I spoke with a number of people from different breweries in California and they all pretty much stated two key points. The first point was best summed up by Greg Koch of Stone Brewing in that they "- are in the business of selling beer, not glass jugs." To that end, most breweries want to sell their product to their customers in a way that meets everyone's needs and abides by all pertinent laws and regulations.

The second point they all stressed was that the quality of the beer getting to the consumer should not suffer because of a lack of control of the container into which it is filled. An extreme example of this was given to me by David Walker of Firestone Walker, who told me of a Sucaba release in another state where a retailer was only allowing half growler fills, all but guaranteeing that the beer would be at a less than ideal state at time of consumption. And what do you do when you find a beer that is not to your liking? You voice your opinion by letting others know. Sadly, a good number of people wouldn't give a second thought about secondary factors, such as storage and the container, for why the beer was not good and just assume that it was bad from the beginning. The old retail adage that one unhappy customer will tell ten friends doesn't hold a candle to a bad score on Beer Advocate or RateBeer, which have become the de facto source for some craft beer drinkers and even some retailers and bars.

The most recent LA news regarding this issue was a statement from the Los Angeles Brewers Guild, headed up by Jeremy Raub of Eagle Rock Brewery, that basically states that for the time being nothing has changed, but that they are actively working with the ABC towards possible options. This sentiment was voiced by pretty much everyone I talked to, making this a classic Mexican standoff, with most breweries waiting to see who pulls the trigger first and learning from their possible mistakes. With so much to lose, like the privilege to even sell growlers, it's completely understandable. However, there may be some developments happening very soon, as both AleSmith and Societie Brewing in San Diego have publicly stated that they are in the process of applying for growler labels from the ABC and hope to have procedures in place in the next sixty days that would allow for non-branded growler fills. AleSmith stated that, once they get approval, they will only fill blank growlers with no markings with their ten year-round offerings. This brings us to the most pressing issue, what happens next?

Even after all the legal aspects of growler filling are hammered out, there will be a lot of questions as to how much change the craft beer community is prepared to accept. Will other breweries follow AleSmith's lead and limit which beers can be filled into non-branded growlers? Will there be an extra fee for bringing in a non-branded growler? Should we expect the brewer to eat the cost of these ABC approved labels? These are all valid questions that will have to be answered in the near future. The bottom line is that all these breweries are businesses and will have to make decisions by weighing the desires of their customers against the financial impact on their business model.

The early plans and ideas for how to make this all work seem very promising, but in the end each brewery has the right to decide how they sell their beer, even if that means ignoring the change in the regulations. So for the time being we are stuck on the sidelines while the ABC and brewers work out the fine details of this issue. I would expect the next three to six months to hold some interesting developments in how you will be able to use your growlers around town. Until that day, all I can do is recommend some great Ikea shelving options for your growler collections.

Cheers!
Beer Guy LA