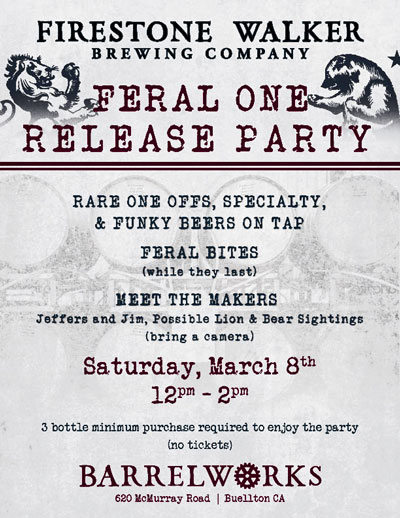 Are you a fan of sour beer and have nothing going on this Saturday? GOOD NEWS! Firestone Walker is going to be releasing their very first bottled sour beer, Feral One on Saturday 3/8/14 at the Barrelworks in Buellton. The catch is that it will only be for sale at the Barrelworks and will probably sell out that day as they only made 500 cases. In usual Firestone Walker fashion, they are sweetening the pot for those who are willing to come out for the release. Anyone who purchases 3 bottles or more (at $13.99+CRV each) will gain access to the "Feral One Release Party" which includes a tasting of Feral One, tastings of 8 other rare & one-off brews from Firestone Walker, and "feral bites and offerings" (AKA snacks). You'll also have a chance to chat with Master Blender Jim Crooks and Barrelmeister Jeffers Richardson. And if all that wasn't enough to get you excited, Firestone Walker pulled a Steve Jobs with one more thing… 2014 Parabola. Yes, not only will they be dropping their first sour bottle, but you'll also have the chance to try and purchase this year's vintage of one of, if not the, best barrel aged imperial stouts made in California. So if you feel like taking a mini-road trip 2 hours up the coast, click here for all the details.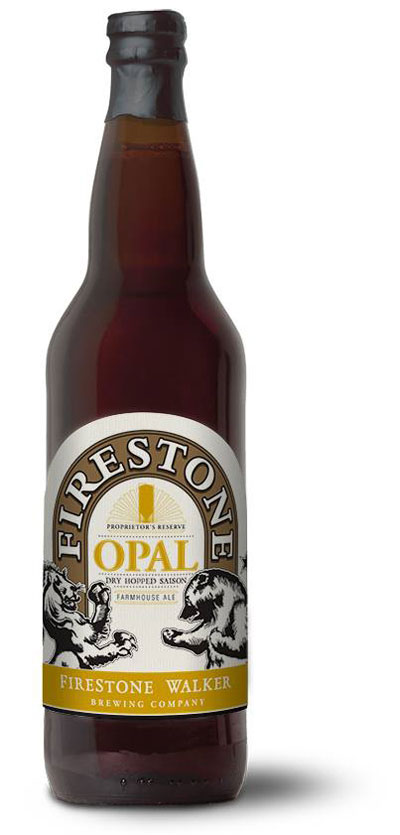 UPDATE: Because two beers weren't enough, they are now going to be releasing Opal as well. Opal is a dry hopped saison that has a mix of rustic grains, spicy yeast, and unique sauvignon blanc tones. This beer takes the place of Walker's Reserve – Porter in the line up and will be available year-round at most retailers that carry Firestone Walkers higher end bottles.
UPDATE 2: And it looks like they may very well surprise the crowd with the unveiling of their new session IPA, Easy Jack, on Saturday as well. This one isn't confirmed but it seems like a safe bet.
And while you're up there, there are plenty of other beer destinations in the Santa Ynez Valley to check out. Coincidentally Figueroa Mountain is throwing a big party for the opening of their newest taproom on Saturday as well, in the nearby town of Los Olivos. And if you need even more of a reason you could always hit one of the following places on your way back: Figueroa Mountain Santa Barbara, Hollister Brewing Co, Islands Brewing Co, Surf Brewery, Enegren Brewing Co, Ladyface Alehouse, or LAB Brewing Co.
Cheers!
Jeff Prosser