Chloe's, the super secret members only bar and restaurant behind the Pub at Golden Road, has recently started a weekly brewer's supper every Wednesday night. This weekly event lets the brewers showcase what's fresh from the brewery and let's the head chef Adam Leboe use seasonally available ingredients to craft small plate dishes to compliment each beer. For $38 a person (plus tip), you get to choose 3 small plate dishes and either a regular or vegan dessert option, all paired with short pours of selected beers. The food menu has options for vegans and vegetarians, as well as some meat options. The beer comes as a half pour of whatever the normal serving size would be, so you'll get a slightly smaller pour if it would normally come in a snifter or tulip.
Assuming you've planned ahead and made a reservation, you'll show up sometime between 6pm and 9pm and walk into the Pub. On the far left of the bar there is a door that says private, which once you walk through you will see the speakeasy-ish door to Chloe's. Compared to the Pub, Chloe's is like a completely different world, with a quite reverence and low-key lighting. After being shown your table, you'll need to start deliberating on your entre and dessert choices. On the night I went, the menu had a number of interesting choices ranging from pan seared scallops to roasted vegetable pave. Because they had just released Wolf Among Weeds, they had both a meat and vegan paired dish with that beer so everyone could have a chance to try it. While trying to decide I noticed the brewers were all seated at the bar partaking in the evening's menu and answering questions from a few of the patrons.
The first dish I had was the Yukon Gold potato gnocchi paired with March Winds Scotch Ale. Now, I've never had gnocchi before, but this particular rendition made with shiitake mushrooms and vegetarian chorizo was amazing. The slight kick from the chorizo really accentuated the smokey malts and subtle sweetness in the March Winds.
The second dish was a vegan vegetable roulade made with asparagus, mushrooms, and vegan cheese wrapped in carrot and zucchini ribbons paired with West Kolsch. I wanted to try one of the vegan options for the sake of diversity, but didn't really expect much out of this one. That being said, I was amazed at how flavorful this dish was. You could really taste the unique flavor of each vegetable and the vegan cheese provided an amazingly savory addition. With a dish this flavorful, the kolsh was really able to showcase its subtler flavors and help cleanse the palate for the next bite of roulade.
The third dish I had was the pan seared scallops paired with Wolf Among Weeds. Being a big seafood fan, I had a high expectation on this dish that was not disappointed. The scallop was perfectly cooked, with the prosciutto crisp adding just the right amount of smokiness to the mix. These flavors really helped to bring out the grassy hops in the Wolf Among Weeds.
I was lucky enough to get to try both desserts after my main course was over. The vegan option was a blueberry white cake that was paired with Berliner Weisse with raspberry syrup. Living in LA, I've had a few different vegan desserts and pastries, and knew what to expect out of a vegan dessert. The cake was a bit on the dense side, but the flavor was very good and worked great with the blueberry compote. The Berliner Weisse with raspberry syrup has a great tart flavor that added an extra dimension to the flavors in the cake.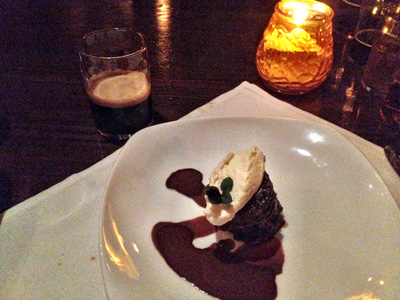 The second dessert option was a chocolate layer cake paired with Big Le "Brah" Ski. The chocolate cake had a very rich chocolate flavor with just a hint of mint. The Big Le "Brah" Ski, Golden Roads Russian imperial stout, was a perfect match for this cake with its deep maltiness and subtle espresso notes.
Needless to say, I was very satisfied with this meal. The food alone was really great, but the hand selected beers really helped bring out flavors in the food and beers. Now, I know small plates can sometimes scare off those with a big appetite, but after the three main dishes and a dessert left me feeling very satiated. If the beer pairing isn't enough craft beer for you, you can get larger pours of any of the beers offered on tap. As I mentioned before, the chef changes the menu every week depending on what beers are available and what ingredients he can get. Overall I'd say this is a pretty good value, especially if you're a fan of Golden Road's beer. If you're interested in partaking in the brewer's supper, email Megan Canto with which Wednesday and time you'd like to attend and she'll get you all set.
Cheers,
Beer Guy LA