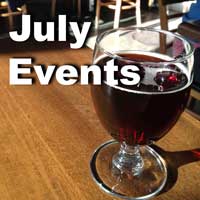 Happy Independence Day everyone! July doesn't have a whole lot on the books for the start of the month, but as always I'll keep this up to date as more things come up.

Summer Flight Night with Smog City Night
Mohawk Bend in Silver Lake
Thursday July 26th @ 6pm
"Come savor the flavor of Smog City. We are thrilled to have so many delicious beers from this local brewery. On the taps we will have: Hoptonic IPA, LA Saison, Saber Tooth Squirrel, Groundwork Coffee Porter, & Groundwork Porter on Vanilla Beans. Owner & Brewer Jonathan Porter will be there, as well as his radical wife, Laurie."
Alesmith Tap Takeover
Sunset Beer Co in Echo Park
Friday July 27th @ 6pm
"Come join us for our first Alesmith event. There will be delicious Taps and a special Menu from LA Pizza Co. next door. (more details to follow)" I've been told they are going to be tapping a keg of Yulesmith for this event.
Far Bar Annual Summer Beerfest
Far Bar in Little Tokyo
Saturday July 28th
"What better way to spend a sunny July Saturday afternoon then chilling out on our "urban oasis" as someone recently called it (patio) or rubbing shoulders in our little bar "where everyone knows your name" , while sipping on some great craft beer and eating tasty BBQ? Well last year we did an IPA Fest but this year we decided since there are so many great Summer Beers infused with fruit and herbs, IPA's and Barrel-Aged Beers surrounding us..why limit ourselves? Let's show some range! So were going to give you everything from a little 4% tart little Summer sipper to some high ABV big boy's…ya dig! Oh..and some great BBQ that will be split up to pair well with each beer category. Just show up and order 1/2 or full pours as you choose all day long. No ticket needed! Tap list to include:
Firestone Walker Parabola
Lost Abbey Bourbon Angel's Share
Bruery Tart of Darkness
New Belgium Lips of Faith Tart Lychee
Lost Abbey/New Belgium Brett Beer
Dogfish Head Positive Contact(Deltron 3030)
Eagle Rock Equinox Wild Ale
Eagle Rock Ginger Saison
Stone Smoked Porter w/ Vanilla Bean
Moylans Hopsickle
Ballast Point Bourbon barrel-aged Piper Down (Scotch Ale)
Allagash Bourbon barrel-aged Black
Kern River 6th Anniversary Dirty Hippie
El Segundo Blue House Citra Pale
Golden Road Berliner Weisse"
Uinta Brewing Night
Mohawk Bend in Silver Lake
Tuesday July 31st @ 6pm
"Utah's own Uinta Brewing will be Mohawk Bend's featured out of state brewery for the month of August. Steve K. from Uinta will be here to chat with you about their tasty Utah brews. We will have a few different beers from their Crooked Line, such as Detour Double IPA; their Organic Line, such as Baba Black Lager; and their Classic Line, such as Hop Notch IPA."
THINGS THAT ALREADY HAPPENED
Out of State Brewery of the Month: Upright Brewing
Mohawk Bend in Silver Lake
Monday July 2 @ 7pm
"We are more than excited to welcome Oregon's own Upright Brewing as our out of state brewery for the month of July. Upright makes incredible saisons and they will be launching a month of Upright brews on Monday, July 2. More details to come, but so far on tap we will have: Upright Four, Upright Five, Upright Six, Upright Seven."
Parabola Tasting
Little Bear in The Arts District (Downtown)
Tuesday July 3 @ 7pm
Little Bear will be pouring up some of Firestone Walker's amazing stout, Parablola. They also have some great grub to go with amazing beer.
Tasting Room Grand Opening
The Bruery Tasting Room in Placentia
Wednesday July 4 @ Noon
"The time that we have been waiting for is upon us…our new Tasting Room is ready! The new space is located directly next to the old Tasting Room at 717 Dunn way and features 40 draft lines and windows looking into both the brewery and our new fermentation cellar. This coming Wednesday, the Fourth of July, we will be opening the doors for a grand celebration. We'll be pouring beer from all forty draft lines from noon until closing at 7pm. Beers spanning our entire catalog will be on draft including Mischief, Marrón Acidifié, Hottenroth, Smoking Wood, Black Tuesday & The Wanderer. Forty different beers in all including a few new ones! We can't wait for you to see the new space as it is really beautiful and we can't wait to have a beer with you!"
Beachwood BBQ & Brewing One. Year. Anniversary Celebration
Beachwood BBQ and Brewing in Long Beach
Saturday July 7 @ 11:30am
"Beer is a regional specialty, a craft that reflects our tastes, philosophies, traditions and aspirations. It's a temporal experience that takes weeks, months or even years of attention leading up to the moment that it's savored, gulped down, revered or just plain forgotten. We are all lucky enough to live in a region full of craft beers that will not be forgotten. In fact they will continue to be duly noted on cell phones, laptops, paper scraps or just by a series of baffled expressions that signify beer geek transcendence. Southern California is a special place for beer and we at Beachwood BBQ & Brewing are privileged to be a part of an innovative, eclectic, uncompromising and truly exceptional community of breweries. As a tribute to all of their inspiration over the years, we've decided to celebrate our anniversary with a celebration of Southern California breweries. In addition, we'll be debuting a special anniversary beer from our own Beachwood BBQ & Brewing brewmaster, Julian Shrago. Plus, special menu items and more…"
Snifter Sunday
The Pub at Golden Road in Glendale
Sunday July 8 @ 8pm
"Once upon a time our dear friend Trevor & his buddy Cliff were tweeting about what to drink on a Sunday … even though it was a Wednesday. Either way, the idea of #SnifterSunday was introduced, and after a chat with Paige and Cambria, Snifter Sundays at The Pub were born. Our first Snifter Sunday will be on July 8. The featured beer is yet to be determined, but it will be a big brew for sipping on as you mentally prep yourself for Monday morning and the week ahead of you. In addition to learning about a new brew on Sundays, we'll be offering a little bonus to accompany each Snifter Sunday's beer. Save the date, and wind down from the weekend with us at The Pub at Golden Road's #SnifterSunday." For this first installment the featured beer will be New Belgium Tart Lychee.
Beachwood BBQ Brewing one year Anniversary celebration
Blue Palms Brewhouse in Hollywood
Tuesday July 10 @ 6pm
"Enjoy Tap list full of Beachwood BBQ Brewing Beers and some amazing food pairings to make this a don't miss night!! Cheers!!!"
Beachwood Brewing 1st Anniversary Celebration
Library Alehouse in Santa Monica
Wednesday July 10th @ 6pm
"Beachwood BBQ and Brewing in Long Beach has spent the last year providing craft beer drinkers with some of the finest suds in Southern California. We at the Library Alehouse are proud to pour Beachwood's beer and are honored to be one of the select Southern California locations helping Beachwood celebrate its 1st anniversary.
We will be welcoming Owner Gabe Gordon, Brewmaster Julian Shrago and other members of the Beachwood crew to the Alehouse, where we'll be pouring the following beers:
– System of a Stout (Imperial Stout infused with cardamom, molasses, coffee and brandy)
– Dank Epoch (1st Anniversary Triple IPA)
– Mandarin Dream Saison
– Hop Vader Black IPA
– Udder Love Milk Stout
– Knucklehead Red
– Foam Top Cream Ale (World Beer Cup Gold Medal Winner)
In addition to the flights, every Beachwood beer on tap will be available in an individual six ounce pour so you can maximize your enjoyment responsibly. But we didn't stop at flights. We'll also be serving some special food pairings to enhance your beer-drinking experience."
New Belgium Night
Blue Palms Brewhouse in Hollywood
Friday July 13 @ 5pm
"Come Share a pint with us at Blue Palms with a Tap list featuring New Belgium Brewery from Colorado. BEERS ON TAP: Tart Lychee, Cocoa Mole, Prickly Passion Saison, Biere de Mars, Brett Beer, Belgo, Somersault, & Ranger IPA."
Angel City Friday the 13th Pint Night
Xlixe in Little Tokyo
Friday July 13 @ 7pm
Come try some of Angel City's new brews and keep the collectible pint glass!
Belgian Mini-Fest
Library Alehouse in Santa Monica
Tuesday July 17th & 18th @ 6pm
"While American Craft Beer is the focus at the Library Alehouse, we still feel the need to pay proper tribute to brewing culture on the other side of the Atlantic as well. To that end, we are going to spend July 17th and 18th celebrating all things Belgian beer. We'll have glassware giveaways, cool swag, food specials and good times all around with 10% of the day's sales going to the 18th Street Arts Center. In addition to these fine events we'll have Duvel art glasses to give away with the purchase of a bottle (one per customer per day) and mini Chimay glasses to give away with the purchase of a bottle of Chimay Red (one per customer per day). We look forward to seeing you at the Alehouse."
Döner and A Draft: Stone Brewing Co
Spitz in Little Tokyo
Wednesday July 18th @ 7pm
"All four taps will feature limited edition Stone beers. Also get any sandwich or wrap and a pint of Stone beer for $11! The first 50 orders will get a Stone pint glass. Stone Brewing Co's very own Norm Stackhouse will be on hand to sling some suds and pontificating about beer."
Craftsman One Night Stand
Beer Belly in Korea Town
Wednesday July 18th @ 6pm
"Like Craftsman sour ales? We'll have Ochre Ale, Honesty Ale, and a special barrel-aged "Sourdough" on Wed!"
Mad River Brewing Pint Night
City Tavern in Culver City
Thursday July 19th @ 6pm
"On Thursday, July 19 at 6 PM, we'll feature Blue Lake, CA's Mad River Brewing Company for a pint night! We'll update this events page with a complete list of the beer lineup when we get closer to the event. Fun fact: In 1989 Sierra Nevada Brewing Co. sold their initial brewing equipment to Bob Smith and with that he brewed his first beer under Mad River Brewing Company."
Sierra Nevada Surly Tap Takeover
Surly Goat in West Hollywood
Thursday July 19th @ 6pm
"Celebrating Nor Cal's finest with this stunning lineup & some more surprises TBA…
Hips Helles – The Mother Hips' 20th Anniversary Beer
3 Bricks IPA
Big Day IPA
Burlywine Ale
Tumbler Autumn Brown Ale On Cask
Hoptimum Whole Cone Imperial IPA
Summerfest Lager
Kellerweis Hefeweizen
Pilsner
Brux (Russian River Collaboration in Bottles)"
Beachwood Brewing Food and Beer Pairing
City Tavern in Culver City
Friday July 20th @ 6pm
"We'll be celebrating Long Beach-based and World Beer Cup winner Beachwood BBQ & Brewing on Friday, July 20 for their one year anniversary. Chef Jessica Christensen will cook up foods to compliment the beers. More details to come!"
Beachwood BBQ & Brewing 1st Anniversary celebration
38º Degrees in Alhambra
Saturday July 21st @ 5pm
"We at 38 Degrees are very excited to help celebrate Beachwoods 1st year of creating, serving and preaching world class craft beer in Long Beach! Join us for a party at 38 Degrees and enjoy a glass or two of some killer Beachwood brews. Besides the brilliant line up below, a special exotic slider pairing with 4 of these beauties will be featured on this evening. If you attend our weekly slider pairings on Wednesdays then you know we get down with slider creations…
On tap from Beachwood BBQ & Brewing:
1st Anniversary Triple IPA
Uno Belgian Single
Hop Vader Dark IPA
Foam Top Cream Ale
Udder Love Milk Stout
Mandarin Dream Saison
Knucklehead Red Ale
System Of A Stout"
Belgian Independence Day Party!
Little Bear in The Arts District (Downtown)
Saturday July 21st
"This Saturday is our Belgian Independence Day Party! Join us for Special Belgian Independence Day Glassware, T-shirts, Gnome Hats from Achouffe & 5 Beer Sampler Flights! BloomfestLA is going down in our hood too!"
Belgian Independence Day Celebration
Surly Goat in West Hollywood
Saturday July 21st @ 1pm
"Saturday at 1pm we celebrate Belgian Independence Day with some amazing kegs from Belgium's finest breweries plus tons of giveaways including these handsome Gnome Hats & Special Edition T-shirts."
Snifter Sunday with Hangar 24
The Pub at Golden Road in Glendale
Sunday July 22 @ 8pm
"Our second Snifter Sunday will be on July 22. The featured beer will be Hangar 24's amazing Russian Imperial Stout! This is the very first keg to leave our dear friends' brewery for LA and you will NOT want to miss it! In addition to learning about this new brew on Sunday, we'll be offering a little bonus gift to accompany your #SnifterSunday beer." This is actually the base beer for Hangar 24's Pugachev's Cobra.
Zymaster No. 2 Release Event
Steingarten LA in West LA
Tuesday July 24th
Anchor Brewing will be having a release party for Zymaster No. 2 Mark's Mild. "Zymaster No. 2 is Anchor brewmaster Mark Carpenter's interpretation of a traditional English dark mild. It is made from a single-temperature mash of English Maris Otter pale malt and crystal malts, a single addition of English Goldings hops to the boil, invert sugar, and our own ale yeast in an open fermenter. mark's mild is a rich chocolate-brown
color with luscious malty sweetness and hints of chocolate, nuts, caramel, and toffee. Neither heavy, bitter, nor high in alcohol, it has a smooth, thirst-quenching finish that makes mark's mild the ultimate sociable beer." Zymaster No. 1 was a really good one, so No. 2 should definitely be worth a try.
Cheers
Beer Guy LA