We've reached the halfway point of The Oinkster's Burger Week IV and, appropriately so, today's burger is the annual Grill 'Em All guest burger, The Pantera Burger. Compared to the first few days burgers, this one is definitely a heavy hitter that's not for the weak (or those with heart problems).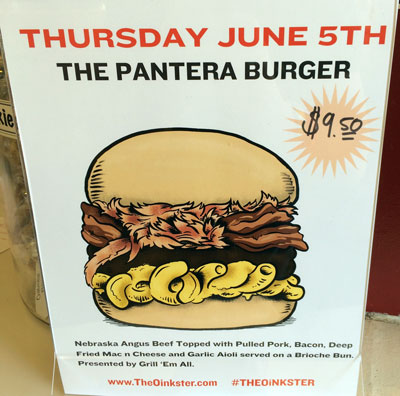 Grill 'Em All, for those not tapped into the LA burger scene, is a heavy metal themed burger paradise. Originally starting as a food truck, they were able to open a brick and mortar location after winning Food Network's Great Food Truck Race. If you're ever out in Alhambra and desiring a massive burger with loads of flavor, I highly recommend looking them up (and their beer selection ain't bad either).
The mutual love of burgers brought The Oinkster and Grill 'Em All together for the first Burger Week and the collaboration has continued every year since. This year, Grill 'Em All is bringing The Pantera Burger which has Nebraska Angus beef topped with pulled pork, bacon, deep-fried mac & cheese and garlic aioli, served on a brioche bun. This burger was originally created for Grill 'Em All's last tour of New York City, but is coming out of retirement for one day only.
Keeping with Grill 'Em All's style, this is one epic beast. There's quite a bit going on, but it all meshes together really well. You get great, gooey cheese from the middle of the fried mac and cheese, a mix of textures and smokey flavors from the meats, and that greasiness that tastes so good you jut know it can't be good for you, that all culminates into a unified experience that is exactly what you want from a gluttonous burger like this.
My beer pairing for this burger is Dale's Pale Ale from Oskar Blues. When you are tackling a bigger than life burger like the Pantera, you want a beer to help cut through the intensity of it and Dale's does that perfectly. The beer pours a dark amber with a nice compliment of off white head. The aroma has a crips clean mix of pale malt and a mix of citrus and floral hops. The body is on the lighter side with a good amount of carbonation. The flavor starts with a hit of pale malt that quickly jumps to a mix of floral and citrus hops and wraps up on a doughy malt. The finish is refreshing but with a lingering piney hop bite.
These two work amazingly well and have a yin and yang effect from the simplicity of the pale ale and the over the top quality of the burger. The beer not only helps keep your palate from being overload by the meat, but also has an added effect of enhancing the smokey characteristics in the burger. The hoppiness of the beer is very refreshing, especially towards the end of the burger.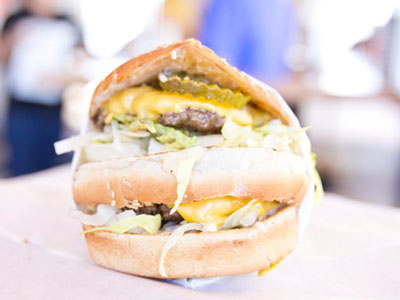 Check back tomorrow for my pairing and review of The Big Max.
Cheers!
Jeff Prosser