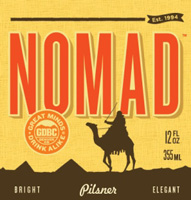 Feeling like a decent Happy Hour was the only way to shake off the work week, I headed over to The Escondite in Downtown last night to see what was on tap. Between the abundance of parking, great food, and steady stream of rotating high quality beers, The Escondite is among the best after work spots in LA.

Happy Hour for me kicked off with a tall glass of Nomad Pilsner by Great Divide. The ultra light yellow pour has pils written all over it, but I was surprised by how thick and creamy the half-finger of bright white head was and how long it stuck around, leaving subtle lace down a good portion of the glass. Champagne-like bubbles indicative of the style streamed steadily from the bottom.

The nose is slightly grassy with light hops, hints of sweet fruit, green grapes, and light spice. The taste opens with a surprising amount of smooth malt that gives way to the crisper, lightly carbonated body. Flavors are in line with the nose for the most part. The mouthfeel is complex as it seems heavier in the opening and slowly transitions to a thin crisp pils leaving little aftertaste. Drinkability is high and the finish is clean, which encourages further tasting. The beer comes in at 5.4% ABV and carries a rating of 83 on Beer Advocate. For my money I find it to be a great example of the style and worth a try if you want to stay on the lighter side without compromising taste. You can find this beer on tap around town as well as in six packs at most major beer retailers.
| | |
| --- | --- |
| Name | Nomad |
| Brewery | Great Divide |
| Style | Pilsner |
| ABV | 5.4% |
| Availability | Wide draft and Bottle Release |
| Rating | 4 out of 5 |
Cheers
Dave