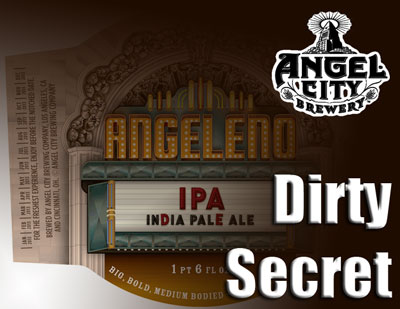 It being Halloween and all, I wanted to be sure to post a scary article for you all and this one sure gave me the chills. Angel City Brewery has been up and running after a phoenix like rebirth last year and, though not all of their brews have been winners, you've got to give them credit for the effort. I've been a fan of some of their one offs, like Avocado Ale and French Sip, and have been pretty happy with the evolution of their core line up. But if you scratch a bit deeper there are some odd things happening in the Arts District (or more appropriately not happening).
Let us start with the family tree. Angel City had been around for a long time in LA, but was swiftly being run into the ground by late 2011. In come Alchemy and Science, a "craft beer incubator" started by Jim Koch of Boston Beer Company and Alan Newman founder Magic Hat Brewing Company, who buy out Angel City lock, stock, and barrel. This was the first acquisition for Alchemy and Science, but later turned into a business model as they have acquired three more regional breweries. Now there's nothing wrong with revitalizing regional craft beer brands, but with the histories of Boston Beer Company and Magic Hat in mind, it's no stretch of the imagination to assume these two had grander plans in mind. But for the first year of brewing at Angel City, it had appeared my fears were unfounded.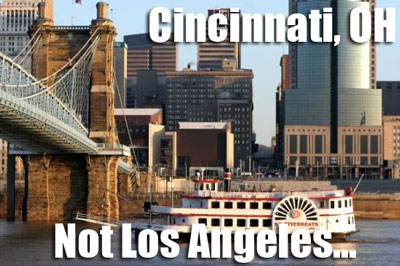 Then I started hearing rumors. Word on the street was that the recently released Angel City bottles weren't being brewed in Los Angeles and, worse yet, they didn't even taste the same as the ones brewed locally. This all sounded a bit strange to me, so I did some leg work and got all the details straight from the source.
I was able to confirm that both Eureka! Wit and Angeleno IPA bottled beers are being brewed and bottled at Boston Beer Company's Cincinnati Ohio brewery. This is one of Boston Beer Company's two major brewing facilities, the other being in Breinigsville Pennsylvania, and is probably able to produce more than 1 million barrels of beer a year (compared to Angel City's 5,000 barrels). Angel City sees this as a strategic opportunity to have a world-class bottling facility that couldn't be replicated in Downtown Los Angeles. Though they don't advertise this fact, it does say Cincinnati, OH in the fine print on the label.
Which brings us to some scary words, contract brewing. This is a relatively common practice where you pay someone to brew beer for you, either with your own recipe or one provided by the brewery. In some cases this isn't even a factor in the quality of the beer, like Mission Street and Clown Shoes. But there is still quite a stigma to the concept of contract brewing and it gets even harsher when you have contract and locally brewed versions of the same beer sharing market space. Angel City assured me that they spent several months and 3 separate batches adjusting the recipes to achieve a brew that replicates the beers being brewed in Los Angeles. But having to adjust for different brewing systems, water, tank geometry in fermentation, and clarification methods among other things, they have had to make some tweaks along the way. At this point the majority of beer being sold are kegs from the Los Angeles brewery, but depending on market demands this could change in the future.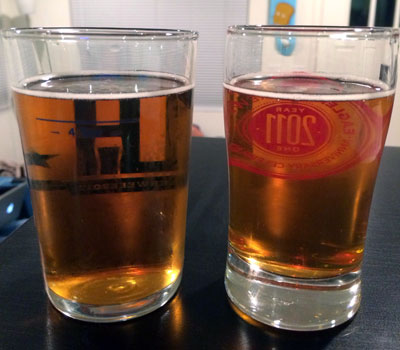 But at this point you're wanting to know if they were able to accomplish what they are claiming. So I went out and bought a bottle of Angeleno IPA from BevMo and got a growler filled down at the brewery and did a blind taste test with David Willis. Appearance wise, they were almost indistinguishable. Sadly, as soon as we tasted each we were both able to pick out the bottled version immediately. There are hints of similarity, but the bottled version has this indescribable Samuel Adam-ness in the flavor (possibly due to a house yeast strain or water treatment procedures) as well as a slight chalkiness on the back end that are just not present in the Los Angeles brewed version. Now I know that comparing a bottle to a growler isn't the fairest of fights, but I'd wager it'd be much harder to do this test with Eagle Rock Brewery or Stone's bottles.
In a perfect world, I'd hope that this is just a minor hiccup and that Angel City will correct course, but it may just come down to issues beyond their ability to compensate for. At This point I can not endorse either of the Angel City's bottled beers. They just don't live up to the flavor and experience of the draft versions. My biggest fear is that they will up production and push these bottled versions to other markets beyond Los Angeles and the LA beer scene will get a negative rap. There is one exception, Angel City will be releasing bottles of Vanilla Porter, of which I am a fan, that were bottled in Los Angeles. Successive special and seasonal releases will also be brewed and bottled in Los Angeles as well.
As always, I'll keep you posted if the situation changes.
Cheers!
Beer Guy LA