Well it turns out my predictions were right last week. Firestone Walker debuted their brand new session IPA, Easy Jack, at the release of Feral One. I was lucky enough to be there to get to try it and get all the fresh dirt on the future of this brew.
So let's recap a bit first. Last year Firestone Walker announced that they'd be retiring two beers, Reserve Porter and Solace, to make way for Opal, a dry hopped saison, and Easy Jack, a session IPA. For a quick primer on what exactly a session IPA is check out my review of Pizza Port Ponto SIPA. This beer really doesn't come as much of a surprise with almost every major player in craft beer getting a session IPA on the market, but something that they'd surely put their own spin on.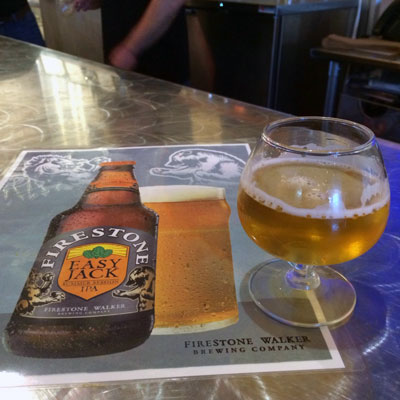 The batch that was being served up at the Feral One release was the first test batch of the brew, with some planned tweaks that will probably happen before the final product hits shelves. At this point, Easy Jack will be a 4.5% ABV beer with a focus on hops. The current batch had Bavarian Mandarina, Hallertau Melon, New Zealand Nelson, and American Mosaic hops making it one of the more diverse mix of hops in the session IPA market. At launch it will be marketed as Easy Jack summer session IPA, but we'll get back to that later.
The beer pours yellow with a slight haze and a nice complement of bubbly white head. The aroma has a nice hop with a mix of citrus and guava and a hint of pineapple and pale malt. It's petty light bodied with a good carbonation that makes it rather refreshing. The flavor starts on a pale malt with a mild yeastiness that jumps to a bitter hoppiness, with notes of citrus rind and subtle tropical fruit. The finish is on the drier side with a lingering citrus rind hoppiness. This beer fits very nicely into the Firestone Walker hoppy beer family, bringing the great citrus flavors of the other Jack's to a lower ABV brew.
As I stated before, this brew will debut at the beginning of summer 2014 and come off the market towards the fall of 2014. But don't be sad, because Firestone Walker is planning to make Easy Jack their second canned beer after they get the 805 cans out to market. Yes you read that correctly, canned Firestone Walker IPA. At this point it will join their other IPAs as a year round brew. So get ready to enjoy some bottles of this tasty brew this summer and cans in the future.
Cheers!
Jeff Prosser