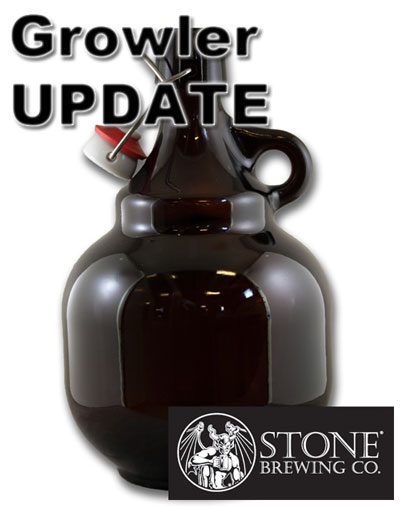 For those of you who have been following the craft beer scene for a while now, you know that growlers are a bit of a blessing and a curse in California. Some of you may have seen my article on the new ABC clarification on growlers back in March of 2013. Well since then several breweries have tweaked their stances on growlers, notably Eagle Rock Brewery and The Bruery.
Today one of California's biggest breweries has made their new growler policy. As of today, Stone Brewing will allow you to fill their branded growlers as well as 1, 2, and 3 liter unbranded growlers with swing-tops. They have decided, much like The Bruery, to not fill screw top or clear glass growlers. The biggest implication of this if for people who own one of those massive 3 liter Stone growlers. With a bit of time and acetone, you could end up with a 3 liter growler that you can fill with any Stone beer of your choosing (as opposed to the usual fill of only what is listed on the bottle). If you'd like to read the full rules for yourself head on over to Stone's growler info page.
As before, it is still up to the brewery to decided if they will fill your growler, so make sure you follow their rules.
Cheers!
Beer Guy LA