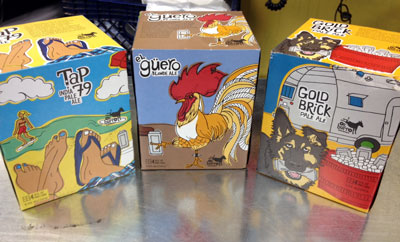 There's a new name in having your name on a beer in LA, Golden Road Brewing. Since one of the biggest players in the contract brewing game, Firestone Walker, announced that they would be starting to discontinue their contract operations there has been some question as to who would step up and fill the demand for house label beers. As of today, it would be safe to say the Golden Road has stepped up to the challenge. In the past 7 months, they have started brewing house label beers for both The Lazy Dog restaurant and Barney's Beanery, but had not ventured into the packaged beer market. But that changes today with the introduction of Ol' Burro Brewery, a house label beer for Trader Joe's.
As most of you know, Trader Joe's is a big fan of their house label products and their beer is no exception. With Firestone out of the picture, one of their best house label lines, Mission Street, has a very unclear future. The introduction of Ol' Burro may be the beginning of the end for Mission Street.
So what's Ol Burro and what kind of beer will they be making? The information is pretty sparse, but judging from the packaging it appears that they are going for a Southern California hipster kind of vibe with very stylized product packaging, a kicking donkey for their logo, and beer names like Gold Brick, Tap 79, and El Güero. Initially there are 3 beers to choose from: an IPA, pale ale, and blonde ale. They all come in 16oz can 4 packs that range $5 for the blonde to $6.50 for the IPA. The general reception has been that, much like all of Trader Joe's other house beers, that these beers are approachable, mostly to style, and a decent value.
I reached out to Golden Road, but they did not have an official comment ready yet. I will post an update when I hear back from them.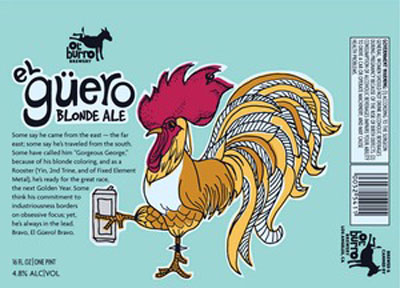 Don't expect much else from this brand at this point, as for the most part the life of a contract brand is at the mercy of whoever is paying the bill and Trader Joe's doesn't experiment much with its house brands. It's not clear at this point how wide the distribution of Ol' Burro will be, but it would be safe to assume they will start out with the greater Southern California region and go from there. You should start seeing these brews at your local TJ's starting today, so if you're on a budget and like Golden Road you might just have found a new beer to keep handy in your fridge.
Cheers!
Jeff Prosser