Sitting at the bar at Little Bear during a Bruery event in the Arts District Jeff happened to meet Melkon Khosrovian and Litty Mathew, the masterminds behind Greenbar Collective, a distillery based in Downtown Los Angeles that offers a variety of original, organic spirits. After a lengthy conversation about beer, they were kind enough to invite Jeff over for a tasting. Being Beer Guy LA's resident non-beer drinker, I was lucky enough to get to join in on this offer. I knew next to nothing about Greenbar Collective, but after some research, and a brief look at their website, I was eager to taste some of their offerings.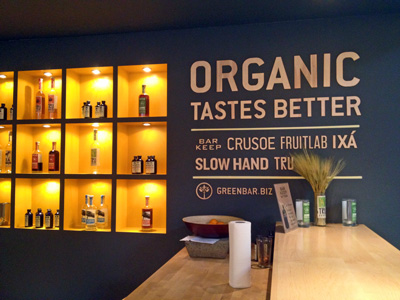 The husband and wife team began making spirits in 2004. With a focus on flavor, using only local, hand-processed produce their unique spirits won them many awards, but it was the eventual decision to go all organic that they claim changed their flavors and set them apart from their competitors. They attribute most of the credit to the farmers they were buying from. "The farmers where transitioning to organic," Melkon said. "Once we started experimenting with organic produce we could taste the difference. There is a richness that wasn't there before. And there was no going back." Having built up a solid reputation they decided to move the distillery from Monrovia to Downtown Los Angeles. "We wanted to be a part of the growing Downtown scene. We've been here just about a year and we love it." In just eight years Greenbar Collective can say that they represent the largest portfolio of organic, handcrafted spirits in the world.
It was a Friday afternoon. Not too hazy. Having once lived in Downtown, driving along the one way streets and brick buildings always settles somewhere between nostalgia and depression for me, almost like going home for the holidays. I kept expecting the memories to be there, but over the last seven years Downtown has become much cleaner than in my memories, parts of it anyway. We parked on 8th Street next to the Amtrak maintenance yard and walked up to the red painted industrial-looking building. We peered through the glass doors, looking though our own reflections, watching eagerly, not really knowing what to expect. Soon we were greeted by Litty. She was open and very friendly, welcoming us in with a big smile. Almost immediately she walked us from the green lobby into a meeting room, but there were no chairs, and on the long white table were clusters of clear and corked class bottles, each with a different distilled experiment. We were looking at the heart of their product, the flavor. "These are all tests," Litty said. She pulled the corks from a few bottles and I was able to smell some of the distilled, savory flavors that they are currently working with. "We'll find an essence that we like and we'll mix them together and try it out. We're even experimenting with local Southern California plants that one might find on a hike." I smelled the distilled sweet tea-like aroma of the California Poppy and was told I'd be drinking it in a cocktail later.
Soon we were joined by Melkon and it was becoming apparent that this was going to be a very intimate tour as Jeff and I were the only guests that afternoon. We made our way up the stairs to the loft turned lounge area that overlooks the distillery below. The interior is very urban with visible wood beams above and polished cement floors. I saw a few people walk back and forth between the numerous steel tanks with large hoses injecting those all important flavors into the alcohol. We stood at the railing as Melkon and Litty each took a turn sharing how they produce their lemon Vodka. "The organic lemons are crated in and each one it zested by hand. We don't want the pith, and it must be done by hand." He pointed to a bronze still that he said was their first one. They mainly use that for their bitters now. After explaining the ins and outs of their operation, and their plan to bring in wood barrels in the near future, "You two ready for a drink?" Melkon said with a grin.
We sat at the wood bar and the couple become our personal bar tenders. "Try some of the bitters," Litty said, "just shake it onto your hand." All of them were incredibly complex in both flavor and aroma. Each one is made in collaboration with some of the most talented mixologists in the U.S. "It's a lost craft," Melkon said as he mixed our first drink. "It used to be that you couldn't make a cocktail without using bitters. It would be like cooking without using salt." Melkon has been distilling for most of his life. "In Armenia, farmers would often make their own spirits using their left over fruits and grains. And it became common for people to do this. It was the Soviet Union at the time. So if you wanted something other than Vodka, you made your own." First we tried a prototype of their new California Poppy liquor, which we had smelled some of the components of earlier in our tour. It was different, yet warm, smooth, and sweet. A fresh peeled lemon was found in the back, they have been saving up and juicing all of the lemons for an upcoming KCRW Pop up Party & Gallery that will be held there on March, 30. Melkon popped the steel shaker and poured our drinks into small tasting glasses. This cocktail used some of their Slow Hand white whiskey. "We wanted to go back to how whiskey would have originally been made, using quality oats and grains. We wanted something unique and to stay away from wood flavors."
Unique is a word that I could use to describe most of my experience tasting that day. And we sampled nearly all of their products. Form their gin to one of the best spiced rums I've ever had, all of their spirits were incredibly complex and warming, and tasted like nothing I had ever tasted before. "We don't make alcohol and then try to mix our drinks. We make our drinks, find the flavors, and then see how we can make the alcohol." In essence they work backwards. As explorers of flavor they make, say, a cocktail with rum and then ask themselves how can we make a better rum to go in this drink. I had my first Tequila Martini. It was their IXA organic tequila that Melkon produces in Mexico. He takes trips down there often to oversee the process. I watched as Melkon squeezed a fresh grapefruit into the mix. "It's incredibly smooth, isn't it?" I said. The tequila itself could be sipped alone. The tasting turned into a great conversation over drinks. Honey roasted peanuts where out on the bar. "What do you drink when you're home and relaxing?' I asked. "Beer." Melkon said. We all laughed. In fact we have to remember beer is how this whole tasting came about. "We must sample our batches each day so when we are home we enjoy a beer when we eat. Its something different." Not a huge fan of barrel aged beers, Jeff was right to bring along Stone Dayman Coffee IPA and Widmer Brothers SXNW as a gift. The couple also expressed an interest in a future collaboration with a brewery on creating a beer cocktail. "A lot of purists don't like the idea, but when you think about it, beer is a perfect base for a cocktail. Maybe a sour of some kind. It's worth exploring." I nearly wanted to pop a beer then and get to experimenting, but after our two hour stay it was time to go. Melkon mixed one last drink, "just so we don't waste the rest of the fruit," he side. He made the cocktail up on the spot. We all agreed that the hibiscus liqueur overtook the freshly squeezed grapefruit, but other than that it was very refreshing.
They walked us to the door. We all shook hands. I greatly enjoyed my time there and can't wait to see them again. Hopefully at a beer event. Melkon and Litty are truly special people who, through their search for flavor, have created some amazing spirits. One cannot talk about Greenbar Collective without mentioning their progressive stance on lowering their carbon footprint. Radically revolutionary is the way they describe it on their website and I agree. This is the stuff Al Gore should be drinking. Not only is everything they use organic, but they contribute to Sustainable Harvest International which works closely with families in rural farming communities in Central America rainforests. There goal is to help solve the agricultural, ecological and economic problems in those areas, and to reverse the effects of slash and burn practices. Essentially, they plant one tree for every bottle sold. Quoted from their website: "We plant them in the rainforests of Central America and provide not only carbon sinks, but also shade for fair trade crops of coffee and cacao so local farmers can better feed their families," and it continues, "The average American produces 55 kilograms (Kgs) of carbon dioxide every day. By being efficient and careful in the manufacturing process and planting one tree a bottle sold, 2 oz of any Greenbar spirit–about what's in a typical cocktail–helps remove 62kgs of carbon dioxide from the atmosphere." So by drinking a Greenbar Cocktail, you'll make yourself carbon negative for a day.
To that I proudly raise my empty glass and say… "I'll have another."
I toast to you two.
Cheers!
Dane