As some of you may know, I like coffee. I can guess that some of you reading this may also enjoy this beverage. Now normally I'd save my coffee addiction for my personal musings to my dog, but I felt the need to share this with the masses. I LOVE ICE COFFEE. This love has led me to an almost endless pursuit of the best rendition of this drink. From the burnt excuse that Starbucks serves to the more elusive cold pressed varieties. I keep an ear to this other brew scene in hopes of finding that perfect cup. So when I heard Stumptown Coffee Roasters was opening up their first Los Angeles location, I made sure to go on opening day.
I'll save you the coffee jibber jabber and just summarize that Stumptown is a boutique coffee roaster from Portland Oregon that has slowly expanded its operations to Washington, New York, and now California. Their coffee can be found around town and there are even some stores that carry their bottled cold brew coffee (like Sunset Beer Co).
Now you may be asking yourself, what's so special about this place? Well when you enter the Stumptown shop you are immediately greeted by a display of growlers and tap handles behind the bar. See Stumptown offers their cold brew in both single serving sizes and in growlers, much like a brewery would offer its beer. Now this is not a new concept to me, as I saw this very same thing at Caribou Coffee while on a trip to Washington DC. But to my knowledge, Stumptown is the first to offer cold brew coffee growlers in Los Angeles.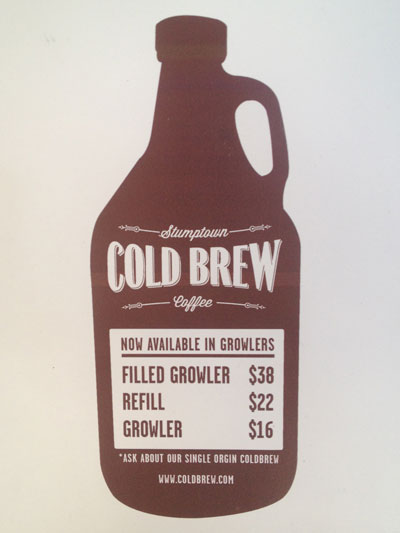 The coffee comes in two varieties, cold brewed and single origin cold brewed, the later of which is a bit more expensive. They don't exactly give you a discount for purchasing it in lager quantities, with a 64oz growler fill of regular cold press costing $22 (almost double what most breweries charge for 64oz of beer!). To buy the Stumptown branded growler it's an additional $16. The coffee will last for about two weeks if kept refrigerated (though the guy behind the counter said that he's had it last even longer). To me the coffee is a very good example of what an iced coffee should be, with the right balance of bite and acidity and well worth the steep cost.
The fun fact that I found out today was that, unlike the state of California's stance on beer growlers, the Los Angeles outpost of Stumptown will fill cold pressed coffee into any 64oz growler. As much as I love admiring my empty growlers on my bookshelf, I think they'd be much happier filled with something in my fridge.
So for those of you looking for another use for your extra growlers, might I suggest filling them with the second best brewed beverage in town.
Stumptown Coffee Roasters Los Angeles
806 S Santa Fe
Los Angeles, CA 90021
Cheers!
Beer Guy LA