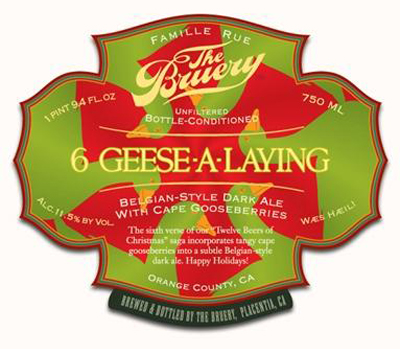 Just in time for the holidays, I present my review of 6 Geese-A-Laying, a tasty Dark Belgian Ale from our friends at The Bruery. 6 Geese-A-Laying is the sixth annual release in The Bruery's ongoing 12 Days of Christmas line of special holiday brews. One beer per year to be released and retired, donning the names of the 12 verses of the well known Christmas carol. Fans of Dark Belgians and of The Bruery will not be disappointed in this limited release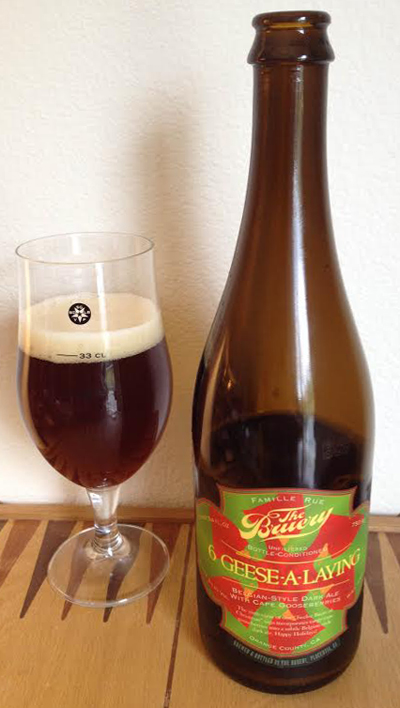 Admittedly, the hardest part about reviewing 6 Geese-A-laying was NOT grabbing the Tart of Darkness sitting right beside it. It is part of a three-way tie of my Bruery favorites, the others being Black Tuesday and Melange #1, a combination of Black Tuesday and Oude Tart that is nothing less than a religious experience.
The body of 6 Geese-A-Laying presents as an attractive rich mahogany capped by a finger of creamy off-white head. The bottle itself holds a thick deposit of cream-colored sediment from bottle conditioning. The head is slow to recede and leaves scattered lace along the way.
The nose is distinctly Belgian, bringing sweet dark fruits to the forefront with accents of ripe bananas and herbal spice. The robust dark malt is subdued in the nose but plays more prominently in the taste which begins with carmel tones and relents to a finish of sweet tart fruit. Tones of plum are backed up by citrus flavors.
| | |
| --- | --- |
| Name | 6 Geese-A-Laying |
| Brewery | The Bruery |
| Style | Belgian Strong Dark Ale |
| ABV | 11.5% |
| Availability | Limited Seasonal Release |
| Rating | 4 out of 5 |
Tartness from the Cape Gooseberries stops just short of cranberry and plays nicely against the other elements of the brew, which finishes with a nice warming burn in the throat revealing the 11.5% ABV. My experience with Dark Belgian Ales is that the richness of the malt combined with the high ABV usually makes them enjoyable slow-sippers. With 6 Geese-A-Laying, the addition of this unique tart fruit ups drinkability significantly and can even be dangerously easy-going given the strength of the brew.
This seasonal one-off will only be available at your local bottleshops as long as supplies last this season. I encourage lovers of Strong Belgian Dark Ales to pick one up. I look forward to picking up the next six annual releases, culminating with 12 Drummers Drumming in 2019. The Bruery recommends cellaring 6 Geese-A-Laying until that time, which would likely have fantastic results.
Cheers,
Dave