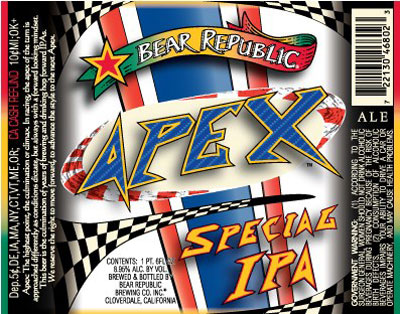 I'm not gonna lie, Bear Republic is one of those breweries that I kind of forget about until I'm in the moment of drinking one of their beers and realize that I should give them more play in my rotation. And boy am I glad I had one of those moments the other week when I picked up a bottle of Apex Special IPA, their latest seasonal special release.
Bear Republic, based in Healdsburg, CA (kind of in the middle of nowhere north of Santa Rosa), have been brewing craft beer since way back in 1995. They are probably best known for their Racer 5 IPA, a brew that you kind find pretty much anywhere that sells decent craft beer these days. For the most part, they stick to hop forward West Coast style IPAs for their brews with the occasional exception. They have a few seasonal special releases, but securing them here in LA can sometimes be a bit difficult.
This brings us to Apex. The bottle looks somewhat like a mix between a 1990's race car and a cheap Mexican restaurant menu, but don't let that fool you. This beer purports to be "the culmination of years of brewing and drinking hop forward IPAs," and with a hop bill of Mosaic, Simcoe, and Citra it's kinda hard to argue that claim. Like most of their beer names, the name Apex in this instance refers to its use in racing, where the apex of a turn is approached differently as conditions dictate, but always with a forward looking mindset.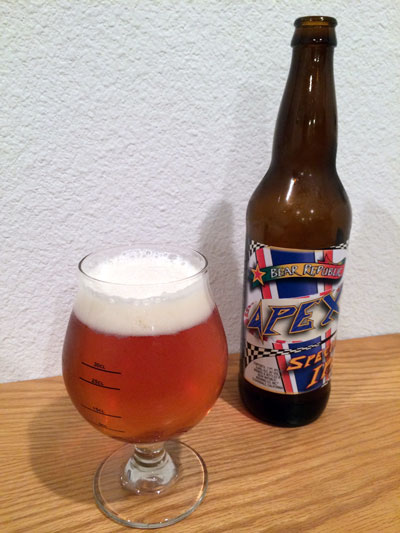 The beer pours a golden amber with a healthy compliment of bubbly bone colored head that leaves a nice lace around the glass as it dissipates. The aroma is an amazing blend of pine and citrus, a mix of tangerine and grapefruit, with a hint of sweet pineapple. Its got a medium bodied with a quite lively amount of carbonation. The flavor starts out with a bit of sweet tangerine that melds into a mildly bitter grapefruit and finishes up on a mild pine hop. There is a subtly sweet pale malt that occasionally peaks through, but for the most part the hops are the focus. The finish is relatively dry with a lingering resinous pine bitterness that takes on a slightly bready quality after a second and leaving you ready for the next sip.
| | |
| --- | --- |
| Name | Apex Special IPA |
| Brewery | Bear Republic |
| Style | IPA |
| ABV | 8.95% |
| Availability | Limited bottle and draft release |
| Rating | 5 out of 5 |
All I can say is that this is one of the best executed IPAs I've had in a while. The hops take center stage, blending three great hop varieties to make a great mix of tropical, citrus, and pine, while there's just enough malt to balance things out. When I was drinking this beer, it seemed more appropriate, with the name Bear Republic, to think of it as an apex predator, because if they made this year-round it would dominate. Sadly though, it is a special release, so I'd highly recommend snapping up a bottle or pint of this beer while it's still around and at its freshest.
Cheers!
Jeff Prosser