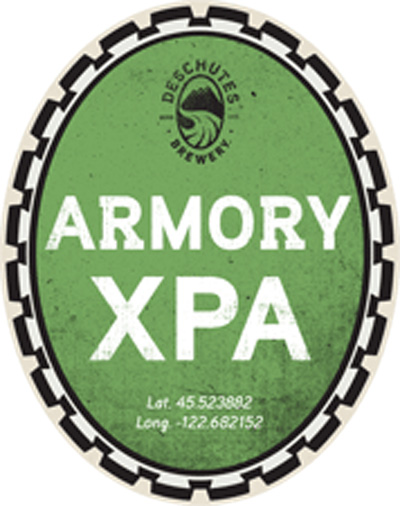 I'm here at Sunset Beer Co. in Echo Park for their Deschutes Night and was lucky enough to get to try a rare gem, Armory XPA. This brew is one that doesn't make it to LA very often, so you should head on over to Sunset Beer Co if you like what you read here.
Armory XPA started life at Deschutes Portland Pub, where it has been a crowd pleaser since its first release. Though in most cases XPA stands for extra pale ale, in this case it stands for experimental pale ale which is fitting for a brew that boast floral and floral and citrus notes from a blend of Nugget, Northern Brewer, Citra, Cascade, and Centennial hops.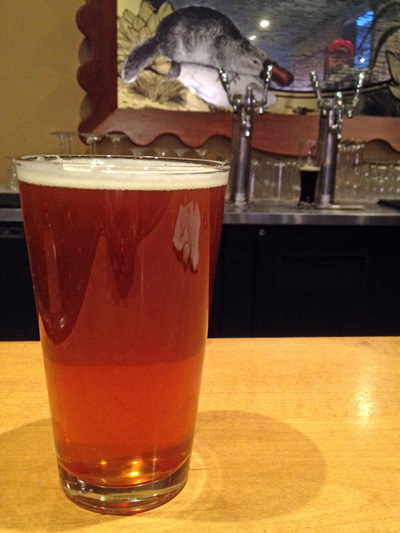 The beer pours a dark amber with a nice amount of foamy white head that has surprising staying power. The aroma has a pronounced caramel and doughy bread that mingles with a slightly fruity, floral hoppiness. It's on the lighter side of medium bodied with a good amount of carbonation. The flavor is very surprising, starting with a sweet caramel malt that is followed by an interesting mix of fruity and floral hops, starting with pineapple and citrus that mellows out to floral and grassy hops. The after taste has a lingering citrus rind and with a bit of piney bite and a mellow cereal malt backing. As you drink it, the caramel slowly takes on a more cereal malt quality.
This beer is a real good example of a hoppy pale ale. I very much enjoyed the unexpected kick of hops on the first sip and the great balance with the malt. This is a perfect example of a beer that, if more widely available, I'd probably keep stocked in my fridge. Unfortunately this one is keg only and is pretty rare in the LA market. It has some similarity to Drake's 1500, but has a bit more maltiness in the flavor profile. I'd highly recommend this one if you're a fan of hoppier pales or happen to be in the Echo Park area tonight.
| | |
| --- | --- |
| Name | Armory XPA |
| Brewery | Deschutes |
| Style | XPA |
| ABV | 6.0% |
| Availability | Very Limited Draft Release |
| Rating | 4 out of 5 |
Cheers,
Beer Guy LA