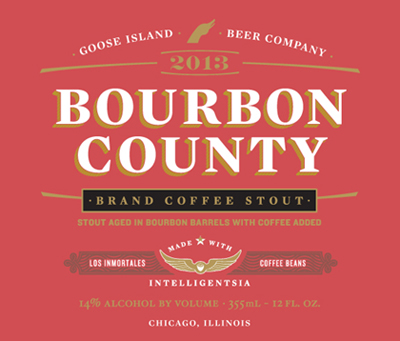 On the heals of Jeff's Bourbon County Brand Stout review, I present my review of the 2013 Intelligentsia 'Los Inmortales' edition of Bourbon County Brand Coffee Stout. As with the regular BSC, 2013 saw the first release of Bourbon County Brand Coffee Stout in LA County. This much anticipated arrival was scheduled for a Black Friday release date, but some vendors like Vendome Toluca Lake and Bill's Liquor were reportedly selling the 12oz. bottles as early as the 27th.
My first experience with Goose Island's Bourbon County Stout was at last year's Goose Island Tap Takeover at The Hermisillo in Highland Park. Since 2010, Goose Island has been making a coffee variation, selecting a new Intelligentsia "Direct Trade" coffee bean each year. This year's beans, Los Inmortales, were grown in the volcanic soil of El Salvador.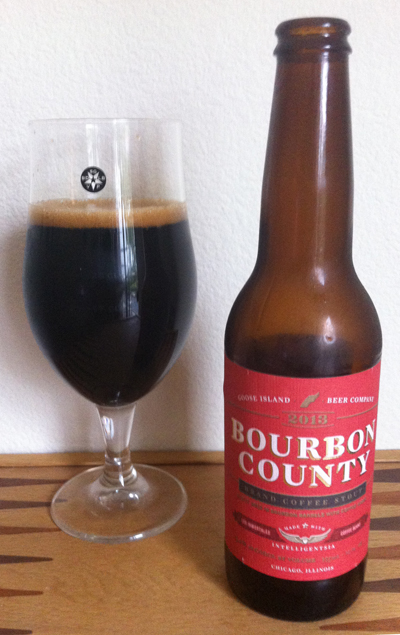 The beer pours a thick jet black that's impervious to light. This is capped by less than a finger's worth of silky coffee colored head that recedes to non-existence in short order. The body is on the syrupy side, clinging in thin sheets to the sides of the glass like a port wine. The nose is pleasantly complex with heavy tones of sweet bourbon, vanilla bean, fresh ground Intelligentsia coffee beans and cacao. A strong oak note is constant with occasional molasses. The smell of Alcohol is present, but not as overpowering as one might expect from the ABV.
A rich and creamy chocolate malt slips into a smooth smokey bourbon then back out to flavors of a rich chocolate. The coffee is the most prominent flavor as expected, and plays extremely well against the bourbon and malt background. There is an occasional light hop note which has trouble surpassing all the rich dark flavors. The brew finishes with a warming burn similar to a hot dessert cocktail. The 13.4% ABV really shows and this is not a beer to be trifled with.
Overall the mouthfeel and carbonation are in line with the style, but end a bit syrupy for my taste.
| | |
| --- | --- |
| Name | Bourbon County Brand Coffee Stout |
| Brewery | Goose Island |
| Style | Imperial Stout |
| ABV | 13.4% |
| Availability | Limited draft and bottle release |
| Rating | 4.5 out of 5 |
My feelings on this beer are fairly similar to Jeff's comments for the original non-coffee BSC. Though the beer is quite tasty and hits like Mike Tyson, I find the sum of its parts to be a little too sweet and syrupy. That is not to say that this isn't a great beer. There is still no denying that this beer is something above average worth checking out, but good luck finding any this year if you didn't brave those Black Friday shoppers.
Cheers,
Dave