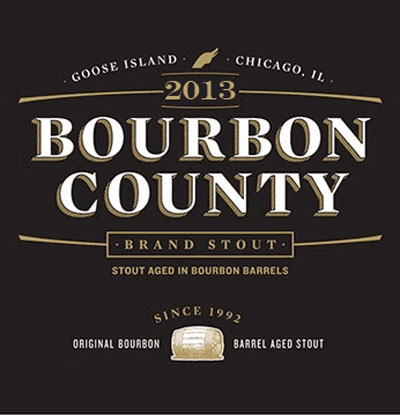 For a long time, Bourbon County Brand Stout had been a white whale in Southern California as Goose Island did not distribute it this far West. But that all changed this year. 2013 marks the first year that BCS has been officially distributed in the LA area, and with all the buzz I wanted to give you my thoughts on this iconic brew.
Originally brewed in honor of the 1000th batch at the original Clybourn brewpub, this beer has become a staple of Midwest craft beer culture. Since the AB-InBev buyout Goose Island has been able to substantially increase their barrel aging program, with the this years barrels more than doubling last years for BCS and it's variants. Sadly, we will only be seeing 3 of the 5 Bourbon County's in LA, as the Proprietor's and Backyard Rye will not be distributed outside of Chicago. Luckily, the brew that started it all, Bourbon County Brand Stout, will be available in 12oz bottles starting Black Friday in very limited quantities in LA and the surrounding areas.
The pour is black with a small amount of mocha colored head that quickly dissipates to a nice ring around the glass. The aroma has a strong presence of vanilla and oak with an earthy roasted malt backing and overtures of bourbon. Its got a very full body with just the right amount of carbonation to keep it lively but not creamy. The flavor starts on a rather sweet vanilla, chocolate, and caramel notes that gradually gives way to bourbon-esque toasted oak and finishes with a mild roasted coffee. The aftertaste has a lingering mix of sweet vanilla, chocolate, and coffee bite with a very present warming of the back of the palate.
| | |
| --- | --- |
| Name | Bourbon County Brand Stout |
| Brewery | Goose Island |
| Style | Imperial Stout |
| ABV | 14.9% |
| Availability | Limited draft and bottle release |
| Rating | 4.5 out of 5 |
Overall I'd say this beer is definitely worth checking out. It does run on the sweeter side of the imperial stout spectrum, with the vanilla and chocolate notes playing very much the center stage. That being said, it's still a very enjoyable brew. Though I'd like to see a bit more dynamics between the malt and the bourbon, this beer still ranks pretty high up there for the style in my opinion. You "should" be able to find this beer on (or possible before) Black Friday at most bottle shops and major beer retailers that carry Goose Islands other high end beers.
Cheers!
Beer Guy LA