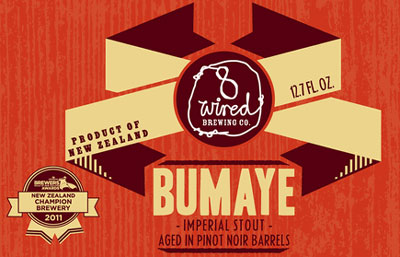 Sometimes you want a light, easy drinking beer. Other times you want a beer that's equivalent to drinking half a bottle of wine. Bumaye from 8 Wired is the later.
In 2012, I discovered 8 Wired and was very impressed with their offerings (especially their Batch 31, which I still have a few bottles of in my cellar). So when I saw another barrel aged stout from 8 Wired, I was immediately in.
First off let's talk about the name. Despite what you might think, bumaye (pronounced buma-YE) is an actual word and not some crazy Kiwi speak. The word traces its roots to The Rumble in the Jungle, the famous fight between Muhammad Ali and George Foreman. Foreman pissed off the locals so much that during the fight they chanted "Ali, Bumaye!" which translates to "Ali, kill him!"
As for the beer, it's definitely a killer. Knowing that several other breweries have proven that ABV can go as high as you want, 8 Wired wanted to make an intense brew that kept flavor as priority number one. They started out by brewing the biggest imperial stout they had ever done. Not being satisfied with just that, they let the beer mature in pinot noir barrels from a local winery for 16 months. They took it even one step further for their local Kiwi fans, ice distilling a batch to create a 22% monster stout that sadly will probably never see our shores.
The pour is pitch black with a very small amount of light tan head. The aroma starts on a strong chocolate and coffee with an undercurrent of dark red fruit and a distinctive booziness. Its got a big body with very little carbonation. The flavor starts with a big boozey hit of red wine that mellows out to a smooth brandy flavor with some undercurrents of raisin and a surprising lack of chocolate and coffee notes that were in the nose. The aftertaste has a strong brandy aftertaste with some lingering raisin and bitter chocolate notes and a big boozey burn.
Though I did enjoy drinking this killer beer, it didn't wow me as much as Batch 31. The robust pinot noir notes complimented the usual imperial stout characteristics well, but it came off feeling like a brandy or port in my mind. Also, even though it's a 12oz bottle, I'd highly recommend sharing this one with someone (as the above pictured glass was all I drank on a particular Saturday afternoon and was perfectly fine with that).
| | |
| --- | --- |
| Name | Bumaye |
| Brewery | 8 Wired Brewing Co. |
| Style | Barrel Aged Imperial Stout |
| ABV | 16.0% |
| Availability | One time limited bottle release |
| Rating | 4 out of 5 |
So if you're a fan of wine barrel aged stouts, I'd say give it a shot (but don't shocked at the $15 sticker price). You may need to call around a bit to find this one, but I was able to get it at Sunset Beer Co in Echo Park. If you're not a big fan of port and brandy type flavors, I'd recommend skipping this one.
Cheers!
Beer Guy LA