Last week I posted my review of Punishment, a big, bad, fiery companion to the brew I present to you now; CRIME. I'm the type of guy who likes to get the hard stuff out of the way first. I delved into Punishment expecting nothing less than liquid fire and as usual, Greg and team Stone did not let me down. So when I embarked on my quest to Pasadena to pick up this bottle, I was expecting a subdued version in similar style. What I found was that these beers, though bound by hell-fire, are each their own unique experience worth examining for those who love pepper beer.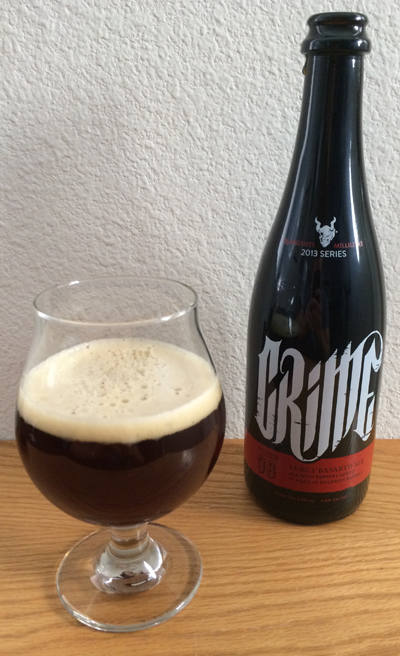 I've heard some say that these high octane pepper beers are one note, because they nuke the palate to a bludgeoned state that can only taste fire and pain. This is not the case with CRIME. Where as Punishment is a spiritual accomplishment, like walking across hot coals, CRIME is more akin to easing into a very hot bath. You may have to test the waters a few times to see if you're ready to fully submerge yourself, but once you acclimate the experience is altogether pleasant. Where as Punishment only whispered other flavors between heavy metal death screams, CRIME is a casual conversation between peppery heat, sweet bourbon, and of course, Lukcy Basartd Ale.
The pour is a deep ruby/mahogany capped by an off white bubbly head leaving decent lace. Nose is of big oak accented by a serrano/jalapeno type of sweet pepper aroma and a clean, dry, spicy heat. Earth tones mixed with caramel and vanilla surrounded by a very pleasant bourbon note that has no trouble cutting through the pepper.
CRIME's whole profile is very well balanced and this is where my preference starts to lean toward this beer over its big brother.
"Ultra-hot with fruity flavors from the peppers up front, along with notes of green jalapeno. Flavors of caramel, hops and oak from the barrel-aged beer come through mid-palate, followed by a ton of pervasive, long-lingering, fiery aftertaste." – Stone Brewing Co.

Don't be mistaken, CRIME is alarming upon first sip, but instead of a heat blast creating immediate sweat as with Punishment, this spicy is more domesticated and lives within the range of some of your hotter food items. Not for the faint of heart, but well aimed at the portion of the market that enjoys pushing the limits.
The heat is bold and lingers long in the lower throat. In between sips there is a comfort knowing that the majority of the heat comes on the back end and the opening consists of a nice malt character and subtle fruit before a rolling wave of raw pepper heat eases in and dominates the finish.
There is some sweat on my brow, but once your body becomes acquainted with the spice the heat actually begins to take a back seat, allowing your nose to take in stronger bourbon notes, which also play nicely in the lead-in of the taste as you acclimate to the spice.
| | |
| --- | --- |
| Name | CRIME |
| Brewery | Stone Brewing |
| Style | American Strong Ale |
| ABV | 9.6% |
| Availability | Limited 550ml Bottles |
| Rating | 5 out of 5 |
Drinkability is relative to your love of spicy foods on this brew, which places it rather high for me. In addition to a great mouthfeel, the brew evolves as it warms and as you warm to it. CRIME is not the one trick pony some may accuse it of being. You can find Crime, Punishment, and their companion release Southern Charred at the Stone Company Store in Pasadena and (to my amazement) the Burbank Trader Joe's.