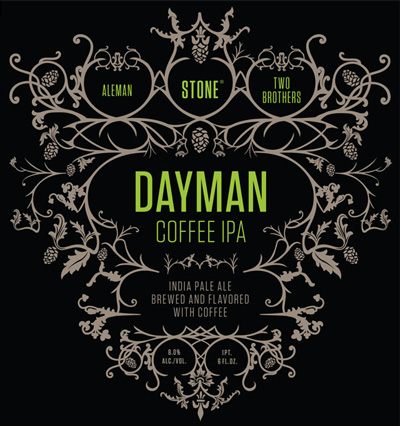 The time has finally come for the first Stone collaboration of 2013 to make its appearance. To start 2013 off, they have helped create Dayman Coffee IPA with Aleman, an up and coming group of brewers from Chicago, and Two Brothers Brewing Company, an established brewery from the Chicago area. In this case, much like Stone's Ken Schmidt collaborations, the release is a finessing of a homebrew competition winner. Aleman entered their coffee IPA into the Chicago Iron Brew competition and took home the big prize, which was a trip to Stone Brewing to create a mass released version of their beer. Two Brother Brewing, who helped judge the Iron Brew competition, joined Aleman on their adventure to Stone and even provided the coffee that was used in the final brew from their coffee company, Two Brothers Coffee Roasters, which is headed up by Mason Brown who previously worked for Chicago's famed Intelligentsia Coffee.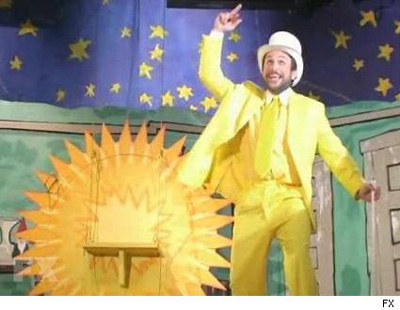 For those in the know, Dayman Coffee IPA may have been named for a character on the TV show It's Always Sunny In Philidelphia. Day Man is the fighter of the Night Man, champion of the sun, and a master of karate and friendship. Aleman originally brewed Dayman to be paired with Nightman, a chamomile-laced dunkelweizen, which only furthers the theory that the guys at Aleman are Sunny fans.
The beer itself was crafted by Aleman to have a blend of two of natures greatest gifts, hops and coffee. Though most of us are familiar with coffee as a big robust beverage, there are times where earthy, fruity characteristics take the center stage when roasted and brewed in the proper way. The guys at Aleman saw this and made a direct connection to the similar qualities of hops. After winning the Iron Brew competition with their coffee IPA, Stone and Two Brothers helped them refine these flavors into an IPA that blends fruity hops and lightly roasted coffee in a very natural way.
The beer pours a dark amber with a small amount of white head that leaves a nice ring as it dissipates. The aroma has a potent unground coffee bean smell with a bit of tropical and citrus fruit and a subtle hint of sweet malt. Medium bodied with a good amount of carbonation. The flavor starts with a slight bit of citrus that moves to a roasty, earthy coffee and finishes on a cereal malt with some mild tropical fruit notes. The aftertaste has a dry lingering coffee bitterness with some citrus hop peaking through. As it warms, notes of chicory and very subtle dark fruit come to the palate.
Like many of the Stone collaboration brews, this beer takes a very interesting deviation from the norm. I have had several other coffee IPAs and I think that this beer is one of the better representations of the style. At first glance you see what looks like a great IPA, but as soon as you take that first whiff you know that the coffee is going to make this interesting. The play between the cascade and citra hops really compliments the fruity and earthy notes that the coffee provides. As it begins to warm, the various flavors start to blend and reassert themselves with each sip. Sadly this brew is a one off, that may never be brewed again, but on the sunny side of things, it will see a wide distribution within Southern California. If you are a fan of good coffee and fresh hops, I'd definitely recommend seeking this one out.
Name
Dayman Coffee IPA
Brewery
Stone / Aleman / Two Brothers
Style
India Pale Ale
ABV
8.7%
Availability
One Time Wide Draft
and Bottle Release
Rating
5 out of 5
Cheers,
Beer Guy LA