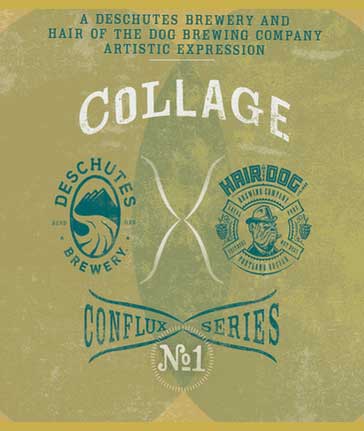 I'm a bit behind on this review, but better late than never! Here is my review of Deschutes Brewery / Hair of the Dog – Conflux No.1 (Collage), a barrel aged collaboration beer 2 years in the making.

Collage is the epic combination of Deschutes Brewery's The Stoic and The Dissident and Hair of The Dog's Fred and Adam. But they didn't stop at just blending these great beers, they proceeded to age these beers in a mix of cask barrels, including rye whiskey, cognac, sherry, pinot noir, bourbon, new American Oak, and new Oregon Oak. They tasted over 100 different variations to create the final blend.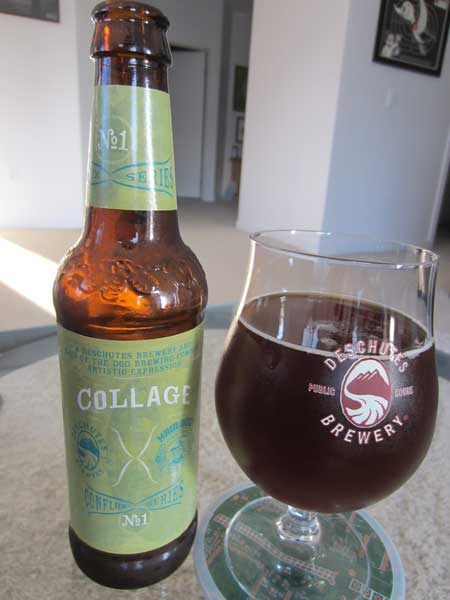 Pour is a dark, slightly cloudy reddish-brown with just a little bit of fizzy head that leaves just a slight ring at the top of the pour. The aroma is funky, slightly musty with a bit of leather, as well as some sweet maltiness and a bit of whiskey. Medium bodied with a good amount of carbonation giving it a slightly creamy texture. The flavor starts with a fruity tartness, like dark cherries, that moves to an oaky rye whiskey flavor and finishes with a robust red wine note. The aftertaste is a funky earthy flavor with lingering whisky and red wine notes.
This beer has a lot going on, but in a really good way. I really enjoyed getting to have this one as it paired some really great whiskey flavors, wine notes, and an amazing oakiness. This is a really strong beer, so plan accordingly. Some might be a bit taken by the sticker shock of $12 for a 12oz bottle, but in my opinion it's worth it. If you happen to find this one in wild, I would highly recommend picking it up. But if you'd rather not leave things to fate, K&L Wines has quite a bit in stock for your imbibing pleasure.
| | |
| --- | --- |
| Name | Conflux No.1 – Collage |
| Brewery | Deschutes Brewery / Hair of the Dog |
| Style | American Strong Ale |
| ABV | 11.6% |
| Availability | Extremely Limited Bottle Release |
| Rating | 5 out of 5 |
Cheers
Beer Guy LA