As a fan of all things spicy, most notably pepper beers in the vein of Habanero Sculpin, I was immediately intrigued by this video, revealing both the new 500ml cork and cage bottling line in Stone's new "secret location" and this year's rendition of Punishment, an unforgivingly hot brew that adds a ludicrous amount of scoville units to the already potent bourbon barrel-aged Double Bastard. Luckily, Jeff was able to procure a bottle in advance. The brew releases tomorrow and will be available, along with its companion beers CRIME and SOUTHERN CHARRED at all Stone Company stores.
Upon popping the cork, anyone in a five foot radius gets a whiff of that concentrated pepper aroma that clears the sinuses in short order. The promise on the label is confirmed, you are going for a ride. The pour is a dark reddish brown, similar to a dark tea. An off white head doesn't stand a chance as it reduces to a thin fizzy ring at the top of the glass.
There is a moment of pure trepidation as you admire the glass, knowing that your cage is about to be rattled. You lean in and the aroma hits you. Slight caramel and sweet bourbon hide in oak tones behind a wall of capsaicin-esque spicy heat. There is a lot of nervous chuckling at the intensity of it. We haven't even tasted it yet and it is intimidating.
"Punishment was born as Double Bastard Ale – a heavy, bitter, beast of a beer. It was already not for the timid, but with the addition of jaw-dropping quantities of freshly harvested local peppers, including mid-level-heat red and green jalapenos and ultra-hot black nagas, Caribbean red hots, Moruga scrorpions and fatalis, it morphed into a truly punishing brew." – Stone Brewing
As I delve in I find momentary relief in an up front presentation of sweet caramel malt, but this is swiftly blasted away by a wall of white-pepper-like heat (described by Jeff as liquid fire) that numbs the upper regions of the tongue and upper lip. When the heat subsides, only slightly, it is followed by a sweet bourbon alcohol burn on the back of the throat.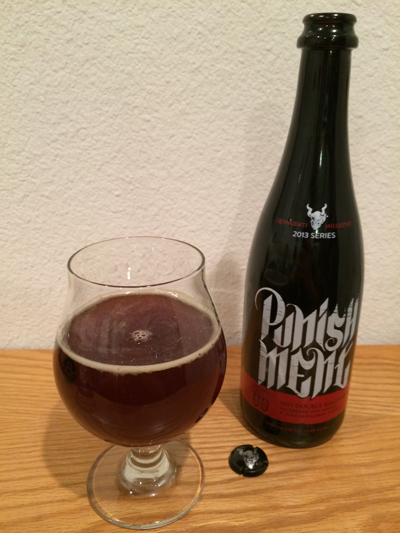 When the initial shock subsides, an aerobic sweat and heavy breathing are immediate. Like a line cook pulling out all the stops for the tough guy at the bar who thinks there is no such thing as wings too spicy, Greg Koch and Stone Brewing have created a pepper beer that awakens every sense and sends those not up for the challenge back to the kid's table where they belong.
With each swallow the actual motion of the beer in your mouth unleashes new kinds of heat hitting new regions of the palette. This process is aggravated by the introduction of oxygen and at one point I distinctly remember saying, "My mistake was breathing at the wrong time." The constant is a fiery ball of spice resting on the tonsils that never quits. It does not weaken, but eventually, if you have endurance, your body can learn to deal with it. As with the leap of faith in the The Last Crusade, only the penitent man will pass, and if you submit to the beer and accept that you have no control, you can emerge on the other side and even escape with some of your taste buds intact.
| | |
| --- | --- |
| Name | Double Bastard Ale, PUNISHMENT |
| Brewery | Stone Brewing |
| Style | American Strong Ale |
| ABV | 12% |
| Availability | Limited 550ml Bottles |
| Rating | 4.5 out of 5 |
As my tongue regains some function, I pick up the faintest taste of Double Bastard in the front end of the profile. It is only as the beer warms to room temp that I can detect some subtle fruit part way through and the lingering peppery sweetness that is clearly jalapeno at the finish. I won't cheapen it by saying the spice becomes hot-wing-like, but the nature of the heat is in the neighborhood, and if I weren't doing my best to dissect the profile for accurate review, I think I'd quite enjoy some celery and blue cheese as momentary relief between sips.
If you fancy extreme heat and great craft beer, you'll want to be at the Pasadena Stone Company Store tomorrow. All three of these releases will be available for a limited time in 500ml bottles only. They each retail for $18, which I feel is a worthy investment, as this is an event beer in the best possible way.
Cheers,
Dave